REUNION TOURISM'S BOOKING PORTAL HOLDS ANNUAL SEMINAR
(Posted 21st February 2015)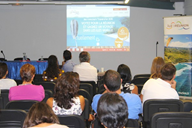 The Regional Booking Platform of Reunion Island Tourism (IRT) held its annual seminar in Saline-les-Bains. Partners companies which attend the workshop take stock of the results of the 2014 and learned how to continue progress in working together during the course of the day.
Over a hundred partners (hospitality and other service providers) were present at this annual event. After breakfast offered by Gîtes de France Reunion did Mr. Patrick Serveaux, President of the IRT and Ariane Loupy, Director of the IRT, welcome the participants. Isabelle Nativel, Head of Information & Marketing division at the IRT, also addressed the members of the IRT Marketing Club, all of them seasoned tourism professionals.
The seminar opened with the presentation of results of all the various activities undertaken in 2014, presented at the meeting by Isabelle Nativel. Particular attention was paid to the various actions tailored to products that have been conducted throughout 2014: Rally Mascarun (May 2014), Nature Cocktail (June 2014), Mafatenglish (September 2014), partnership with the site Private Sale Travels, Call brochure Alon Bat 'Kare First Edition Alon Bat' Karé dan 'South (December 2014).
Regarding the latter event, the COO Destination South Meeting Olivier Néry provided details to the workshop participants that during the two days of the event, which took place between 05th and 07th December last year, more than 300 visitors took advantage of the offers at hand. The immediate result was that the turnover of the tourist office was quadrupled! Note that the second edition of Alon Bat 'Kare will take place on 28th of February and 01st of March, at the Plain of Kaffirs.
Also showcased was the new award winning website www.reunion.fr which was spruced up and given state of the art interactive features last year, making it more user friendly and hence attracting more visitors.