RWANDAIR PROMOTES NEW AIRCRAFT WITH SPECIAL FARES
Information was received from Kigali overnight that RwandAir, the countrys national airline, has used the arrival of their first B737-800 and the imminent going into production of their second B737-800 to promote the destinations where the new bird is being deployed with extra special fares.
The new aircraft will be making some guest appearances on the entire network to show it off to the regular travelers hitherto used to the CRJ 200s or the B737-500s and on selected traffic days over the next week will East Africans have a chance to sample the inflight comfort of Boeings Sky Interior.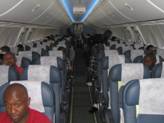 Travel from Entebbe to Kigali and back tomorrow for instance will only cost 100 US Dollars return in economy while in business the fare will be 200 US Dollars, while the onward flight from Kigali to Johannesburg will be 200 and 400 US Dollars respectively.
Dar es Salaam / Kilimanjaro in comparison will go for 180 and 320 US $ respectively but the biggest present will be given to West African destinations where for instance Libreville and Brazzaville to Dubai will sell in economy at 350 US Dollars and in business which comes highly recommended at 600 US Dollars only.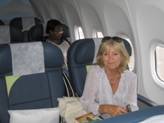 Equally will travel from Nairobi via Kigali to Johannesburg sell on a selected travel date for US Dollars 200 and 400 respectively, and in all these fares are INCLUSIVE OF ALL TAXES, a real gift by any measure and it is understood that bookings are coming in thick and fast to take advantage of these special fares. Bookings can be made directly at the airlines offices, through travel agents or via www.rwandair.com GO FLY