JAPAN TARGETTED BY RWANDA TOURISM FOR MORE VISITORS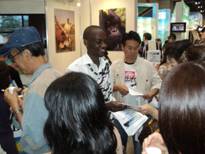 The recently concluded JATA 2011, Japans if not South East Asias leading travel show, was once again attended by a delegation from Rwandas tourism fraternity, ever keen to open new markets and attract visitors from that part of the world to come and see the attractions of The Land of a Thousand Hills.
Rwanda first went to Japan in 2006 and has since not missed a single date with JATA, always having RDB Tourism and Conservation partner with private sector stakeholders in a proven format.
Rwanda recorded over 2.000 Japanese visitors last year and expects to see this figure rise in the future as a result of their continued participation in JATA. Reportedly stands from Kenya and Tanzania were also exhibiting during the travel show, though Uganda was notably absent from the event, leaving the field for in particular gorilla tourism to their Rwandan neighbours.
During JATA were charity auctions held in favour of the victims of the earthquakes and subsequent Tsunami earlier in the year, raising both funds and attention to the ongoing plight of the affected areas in Japan.