TOURISM, AVIATION AND CONSERVATION NEWS from the Eastern African and Indian Ocean region
A weekly roundup of reports, travel stories and opinions by Prof. Dr. Wolfgang H. Thome
Get daily breaking news updates instantly via Twitter by following @whthome or read the daily postings on my blog via: www.wolfganghthome.wordpress.com Many of these articles then also appear on the Africa Travel Association web magazine and of course via global industry leaders eTN on www.eturbonews.com/africa
Second edition October 2011

East Africa News
KENYAN MINISTERS REMARKS ON SOUTH SUDAN / UGANDA BAFFLE OBSERVERS
Sources from both South Sudan and Ugandas political establishment have expressed their consternation with remarks made by Kenyas Lands Minister James Orengo before his parliamentary committee on defense and foreign relations, when he mentioned the two countries in the same context of border violations by Somalia. Claims that the respective borders were under threat will very likely prompt intense diplomatic activity in coming days as South Sudan and Uganda will be seeking clarification from the Kenyan government how they can be mentioned in the same breath as Somalia, which by all standards is a failed state with the breakaway regions of Puntland and Somaliland attempting to gain recognition as separate states while the rest of the country is ruled by the guns of militias and clans. Regular border violations by militias along the common border between Somalia and Kenya have been reported in recent months and two high profile abductions of foreigners by suspected Al Shabab militants have raised the possibility of Kenya sanctioning hot pursuit by security forces across the border, to find and hopefully free the hostages and to create a forward defense line. However, while that is understood in the region, the minister is now coming under fire for his ill considered remarks to mention South Sudan and Uganda in the Somali context, questioning just how fit he is to be a member of the Kenya government. Said a source at Ugandas foreign ministry on condition of not being named: If this report is true, and we have heard rumours about such statements, our High Commissioner would seek clarification from the Kenya government on the substance of it and only then can it be considered about our reaction. But if it were true it would also be very regrettable as Uganda has very friendly relations with Kenya and we pose no threat to any of the borders of our neighbours. There is the small issue about Migingo island in Lake Victoria and verification is going on as to the exact border line which we both inherited from the British and where demarcation is a bit difficult.
Ever heard of watch your mouth or think before you speak Bwana Minister? Not your finest hour says yours truly from across the border in Uganda.
Uganda News
IGG CLEARS WAY FOR APPOINTMENT OF NEW NATIONAL FOREST AUTHORITY BOSS
The spat between the Inspector General of Government and the Ministry overseeing the NFA has yesterday come to an end when the IGG had to concede that it was within the Ministers powers to reject candidates proposed to her by the Board, a development which last month prompted in a short lived and from the onset ill considered investigation by the IGGs office and resulted in paralyzing the appointment process for a new Executive Director of NFA.
Since the suspension and non renewal of contract for former ED Damian Akankwasa almost two years ago the NFA did only have acting heads and subsequently ran into more trouble when board members came under scrutiny too over a range of allegations. The vacuum on the top of the National Forest Authority also prompted wide ranging infiltrations into forests by squatters, reportedly caused by a lack of determined leadership, which led to added allegations that alongside the Uganda Wildlife Authority a systematic assault on Ugandas prime conservation bodies was underway with ulterior motives. The vacuum at NFA also permitted the powers that be to once again attempt to get over 7.000 hectares of the Mabira Forest cut down to establish sugar cane plantations halted however by stiff resistance from a large number of MPs belonging to the ruling National Resistance Movement party. The attempt to show the media degraded areas of Mabira also backfired when no such areas could be discovered and yet only degraded areas were being earmarked for conversion into sugar cane plantations according to government mouthpieces.
It is expected that Minister Maria Mutagamba will shortly put pen to paper and appoint a new Executive Director of her choice for the NFA, which should hopefully put Ugandas prime defender of forests back on track to carry out its mandate without fear or favour.
RAINFOREST LODGE MABIRA SET FOR A NIGHT OF JAZZ, RYTHM AND BLUES
Raising awareness and drumming up support for the survival of Mabira Forest comes in many different forms and key stakeholder, GeoLodges Africas RainForest Lodge will be breaking new ground when they hold a night of music at the lodge deep in the forest. On the evening of the 22nd October will a live music event be staged at the lodge and the audience will comprise not just ordinary music lovers but also expected is a cross section of supporters for Save Mabira Forest who will come to show flag, although it has been stressed that the evenings programme is purely a cultural event and not of any political nature. Nevertheless, those coming to the lodge for the concert will be able to appreciate the pristine rain forest environment surrounding the property and they will go back home knowing just what is at stake here.
Ill considered plans have been revived a few months ago, first defeated in 2007 in the wake of a wave of street protests in Kampala, to convert over 7.000 hectares of prime rain forest into sugar cane plantation, aimed to benefit the arguably worst performing sugar company in the country from which the very same government has divested for lack of profits and dividends. However, public reaction was swift and broad based once more, pitting development partners including the World Bank, a majority of Ugandas parliamentarians, the business community and society at large against the project, hopefully this time stopping it for good and leaving this green lung of the country intact for future generations. Experts have in any case projected that the value of the forest, if kept as it is, will in the long term earn the country considerably more revenue through carbon credit trading and tourism use than the sugar barons could ever do. Besides, Mabira is a crucial water tower and catchment area benefitting Lake Victoria and the upper Nile and cutting down a quarter of it would most likely cause a major environmental degradation and long term negative fallout for the country, something the powers that be have clearly not appreciated as yet.
The RainForest Lodge has several options on offer for the event night and a basic package of self-drive to the lodge, a BBQ dinner and a ticket to the concert sells at 50.000 Uganda Shillings at current exchange rate less than 25 US Dollars. Other packages include the transport option as well from and to Kampala. Overnight options are also available for one or two nights at the lodge, which has always given this correspondent this special enchanted feeling when visiting. The wooden cabins are set far apart for privacy and tranquility, allowing guests to hear the sounds of the forest and catch glimpses of its furred and feathered residents.
The RainForest Lodge is part of GeoLodges Uganda and more information about the company and the location of their properties can be found via www.geolodgesafrica.com.
MWEYA SAFARI LODGE PARTNERS WITH USAID TO RAISE FUNDS FOR CONSERVATION
Information was provided over the weekend to this correspondent that the USAID funded STAR project has partnered with the Mweya Safari Lodge in Queen Elizabeth National Park and UCOTA, the Uganda Community Tourism Association to raise funds towards conservation education in schools neighbouring the park in the wider area. STAR, aka Sustainable Tourism in the Albertine Rift has for the past years been actively working with sections of the tourism fraternity in particular in education programmes and product innovations and Mweyas participation will be a boost towards the projects objectives.
Guests staying at Mweya can now on check in tick a box contributing one US Dollar on their final bill, which owning company Marasa Limited will then remit periodically to the joint initiative. Coined 1 Dollar for the Future the funds collected will help to build a new school but will also support activities by the Wildlife Clubs of Uganda to create awareness and sensitize pupils on the need for the conservation of nature to ensure sustainability in the future. Upon completion of the first school a joint panel will then decide on additional projects for 2012 and beyond.
Marasa operates three lodges in Uganda including the Chobe and Paraa lodges in Murchisons Falls National Park and has presently three lodges in Kenya, the Mara Leisure Camp, the Aberdare Country Club and The Ark. The company is part of the Madhvani Group which already operates a half billion Uganda Shillings per annum Foundation from which a range of activities including scholarships benefitting tourism, hospitality and conservation science students are financed, but this latest initiative was launched directly by Mweya and is not part of the Madhvani Foundations work. For more information write to info or visit www.marasa.net
UMEME LAUNCHES INCIDENT ROOM
Ugandas embattled electricity distributor UMEME, stung by criticism from the public, the business community and parliamentarians, has in recent days moved to start a public counter offensive, aimed to bring accurate information faster into the public domain.
Their call centre, in the past notorious for giving often as many different accounts over a reported outage as suffering consumers made calls, will now be supplemented by UMEMEs presence on social networks like Facebook and Twitter, but most notably through the launch of an incident room which will in the future coordinate information given to local media organizations. This will extend to technical faults as well as the power supply situation and daily updates will be availed to radio and TV stations across the country three times a day, and more should special circumstances necessitate. Senior personnel will be assigned to the new Incident Room to ensure correct information is given, a marked improvement over the past when often overwhelmed junior staff manning the call centre phones lacked accurate information.
In the process the company has also pointed out that they could only distribute what they in turn received from the producers of electricity, a concealed reference that culpability for the present shortfall in electricity production rested with others, not themselves. Here it is noteworthy that government and parliament are locked in arguments over the release of funds to pay contractually agreed subsidies to independent thermal power producers, which led to a standoff and then a sharp reduction of electricity fed into the national grid when several companies literally ran out of fund to pay for their fuel. At the same time was government criticized over directives to shut down diesel propelled plants, keeping only the cheaper heavy fuel oil plants in operation. The business community in particular decried this development saying government should have waited, inspite of the relatively higher cost, until the new Bujagali hydro electric plant comes on line before starting to phase out diesel propelled thermal plants, pointing out the crippling effect of the effect of the load shedding for manufacturing and other businesses.
Electricity rationing presently is in effect in Tanzania and Kenya too where drought has reduced the level of water in the reservoirs of the main hydro electric plants, leaving in particular the main city hotels and beach resorts in a lurch making the use of in house generators necessary at a huge expense affecting bottom lines due to the escalating cost of diesel and the lack of government tax and duty breaks.
Meanwhile, as said before, is UMEME now on Facebook, bravely enduring the endless flood of invectives posted by irate consumers but nevertheless taking the step to show flag and be able to provide timely updates on key social media networks. Follow them on Twitter via @UmemeLtd or visit them on Facebook via https://www.facebook.com/pages/Umeme-Limited/220966921259007?ref=ts
THE OBSTACLES TO SELF HANDLING ARE MANY AND DELIBERATE
Entebbe International Airport remains the regions highest priced handling location for airlines as dominant player ENHAS has to contend only with DAS Handling, which maintains itself through a handling contract from Kenya Airways but not much more, and that one courtesy of a major row a few years ago between KQ and some of ENHAS shareholders who had tried and ultimately failed miserably to establish a competing airline in Uganda.
A source close to the Civil Aviation Authority, when following up on earlier stories here, intimated that they would be happy to grant a concession for self handling to applicants who can show that they have the capacity, and the modern equipment required, to handle themselves, casting aside past assertions that there was no space to park the equipment of a third handler, even if it is a self handler.
For those with eyes to see, and the ability to analytically compare charges say effective in Nairobi with Entebbe, it is obvious that powerful interests are behind this situation, as was apparent when back in the 1990s. The single profitable unit of the then Uganda Airlines, its ground handling unit, was hived off in an exercise which lacked transparency and international bidding at the expense of a most favourite disposal method. QU soon afterwards went into a financial tailspin from which it never recovered and was ultimately wound up when bidders from abroad got cold feet over political influence peddling and financial viability of a major investment in what used to be Ugandas national airline.
Airlines since then have been paying the price for this and while undoubtedly ENHAS has the infrastructure and invested regularly in facilities and new equipment, they nevertheless did so at a cost to their users.
Said the source after frantically seeking a guarantee of not to expose the individuals identity for fear of repercussions and consequences: Some airlines have been applying for self handling for a long time now. I think that fundamentally we should not listen to or be pressured by what is essentially a competitor or at the very least someone maybe losing a customer. This issue has even been raised at the Investor Round Table the president hold every so often. I think it is time to take a decision and let some go on their own, times have changed and we cannot and should not be kept at ransom over political threats. Aviation is a major industry and Entebbe will have to follow the example of Nairobi. If we are to get a lot more traffic, handling must be costing similar like Nairobi and not twice as much in some cases we have been made aware of. We have to put our country, Entebbes benefit before individual benefit. Self handling by the way is not for free, the airline must pay concession fees to CAA, so it will not be a loss of income for CAA as has been falsely suggested to higher authorities.
Final decisions, it has been reliably learned, could be made within weeks now and as and when the near monopolistic handling regime in Entebbe will be tackled, you can be sure to read about it right here.
KAMPALA DOWNPLAYS SNUB SCENARIO OVER TRANSPORT LINKS WITH TANZANIA
Political observers close to the seat of power in Kampala have downplayed the emerging talk in Kenyas media that Uganda was to shift its imports from the Kenyan port of Mombasa to Tanzanian ports, following a state visit by President Museveni to Tanzania last week. While agreements were inked to commit to the modernization of the railway link between the Lake Victoria port of Mwanza to the Tanzanian coast, distance and capacity at present are a crucial restraint for importers and exporters in Uganda, who mostly rely on rail and road links to Mombasa.
While Uganda has indeed lowered excise duties and taxes for fuels imported via Dar es Salaam, railed up to Mwanza and then shipped across Lake Victoria on a rail ferry, the lack of sufficient rolling stock and ferries presently prevents a sharp shift of volumes to the Tanzanian route, with the added distance also adding extra cost. However, in the long term it is Ugandas expressed desire to create redundancy and offer a viable alternative route, and the upgrading of rail tracks from the present narrow gauge lines to European standard gauge will in time to come offer better options from both the Kenyan and Tanzanian ports.
Rumours were also dispelled that the planned modernized and upgraded rail line would run through the Serengeti National Park. The present rail line to Mwanza does not run through that park but has a different routing. It is that line which needs upgrading. Our ferries dock in Mwanza and will continue to use Mwanza to connect to Port Bell [Kampala?s
lake port suburb]. We need more ferries, more equipment and a modern rail line. This will take years to accomplish. Tanzania is also working on a rail link with Rwanda, Burundi and beyond to Congo. The entire East Africa must get better and more transport infrastructure and rail is the most cost effective way to transport goods and people, as long as it is efficient and fast. We are promoting our links to the Indian Ocean, which as a land locked country are crucial for us, to both Kenya and Tanzania as we also have borders with the latter. It is a strategic issue to have redundancies in such systems, so when one is temporarily disabled or has to reduce capacity we have a fall back. We in Uganda are not promoting to run a railway through the Serengeti and while the ultimate decision on a routing is Tanzanias internal affair we do not believe that they will move the present railway line into the park but simply upgrade it like Rift Valley Railways is proposing to do with the existing line from Mombasa to Kampala was the feedback from a usually well informed and well placed source when discussing the issue before adding: the Kenyan media have their own agenda and are often the cause of problems and misunderstandings. There is no way we in Uganda could snub Kenya as it is mischieviously being portrayed. We are partners and are equally working hand in hand to have the Mombasa to Uganda railway upgraded, so what are they talking about other than trying to be sensational.
Adds this correspondent in closing that this reflects a long term trend in Ugandan strategic thinking vis a vis infrastructure developments in the region, aimed to benefit the flow of goods and people and that there is indeed nothing more to it, and certainly nothing more sinister like has been alleged in recent media reports. Watch this space for the most current news updates and insight into national and regional issues.
MINISTER OF CROCODILES CANNOT SHUT UP EITHER
Rash decisions and bad decisions triggered all this and it is entirely Otafires fault that UWA is now in tatters said a source close to the centre of the ongoing controversy, when it became known that the now Minister for Justice had gotten once again involved in the UWA Commission of Enquiry earlier in the week when he directed that the Commissions lead counsel stop working after it became public knowledge that he had, together with two other commissioners, publicly disagreed with commission chair Kanyeihamba.
Technically the commission is under Tourism so why Otafire gets involved is a bit of a mystery for everyone, but maybe he is trying to save his man Kanyeihamba. In any case, the term of the commission has expired in August and it was directed by the competent minister to wind up and produce a report. But it seems the commission chair is busy lobbying for another extension instead of writing his report. The dissent with his members is also now public knowledge and we wonder if we get one report signed by all or two reports signed by the factions only added the same source, understandably on condition of strictest anonymity, fearing a witch hunt for informers.
Meanwhile is the appointment of a new board of trustees for the Uganda Wildlife Authority still pending before the minister Prof. Ephraim Kamuntu as is the decision over the fate of the acting Executive Director Dr. Andrew Seguya, keeping the organization in added suspense. These latest public spats will undoubtedly put some added pressure to have these issues resolved at the very earliest opportunity as UWA deserves to get back to a level of normality with a properly constituted board in place and the position of Executive Director sorted out once and for all, to put past upheavals and operational paralysis behind and get on with crucially important conservation work. Watch this space as undoubtedly more twists and turns of this saga will come to light.
MORE CHOGM CHARGES AGAINST SENIOR POLITICIANS ROCK POLITICAL ESTABLISHMENT
The Inspector General of Government moved swiftly over growing allegations that former Vice President Prof. Gilbert Bukenya was singled out and kept in remand jail while awaiting his bail application to be heard by the High Court, when more charges against senior politicians were brought. Conspiracy theorists had tried to make a connection of the former Vice President losing his parliamentary seat when an election petition was upheld against him yesterday and being kept in remand until next week due to the inexplicable absence of a judge to deal with the application for bail, unsettling a crucially important NRM constituency of voters and party supporters from central Uganda.
Summons were issued yesterday by the Anti Corruption Court for Foreign Minister Sam Kuteesa, former Works and Transport Minister and now Government Chief Whip John Nasasira and the now Minister of State for Labour Mwesigwa Rukutana, to answer charges of misappropriation of government funds in the run up to the November 2007 Commonwealth Summit.
The public accounts committee of the last parliament had investigated a number of politicians, senior civil servants and companies involved in alleged scams to siphon off public funds from the CHOGM budgets and while the current cases now before court are significant in regard of the personalities involved, it is only the tip of the iceberg as more charges against a larger number of individuals are said to be in the final stages of preparation. The committees report however was eventually thrown out by the plenary session of the last parliament which attempted to give blanket absolution, a failed effort it seems as the office of the Inspector General of Government conducted subsequent investigations and decided that prosecutions were in the public interest to quell rumours that the mighty always get away.
Notably, while the ruling NRM has made an anti corruption drive part of their manifesto for the last elections, have other reports emerged that President Museveni once again came to the aid of his former deputy by throwing his weight behind Bukenya, stating that in his opinion the former Vice President had no case to answer, bringing the head of state on a collision course with the supposedly independent court system. This scenario gained momentum when media reports began to emerge that a cabinet session had resolved to get Bukenya out of jail, something independent observers promptly used to speculate over the independence of the judiciary and due process. Watch this space as this saga now gains momentum and these cases go underway while others are due to be brought.
CUSTOMS QUARRELS AT BORDER HALT IMPORTS AND EXPORTS
Truck drivers at the border between Uganda and Kenya at Malaba have gone on strike and blocked traffic yesterday, halting the flow of goods between the two countries. According to reports the drivers were incensed by what they call arbitrary decisions by the Uganda Revenue Authority to impound trucks and fine drivers. The border post has in the past seen similar action, mostly over the physical state of the parking yards and facilities but also over alleged mishandling and corrupt practices by customs officials.
The East African Community has been promoting one stop border clearance and the business community has for long harboured hopes that with the onset of the zero rating of internal duty rates for goods manufactured within the EAC the internal borders could eventually come down but a range of non tariff barriers and disputes over the level of imported inputs in goods produced in East Africa have pushed this dream time and again into a distant future.
It could not be ascertained at the time of going to press for how long the drivers action will continue but it is understood that the police presence on both sides of the border had been stepped up to avoid any rowdy scenes develop which could impact on other road transport. Dozens of busses and hundreds of passenger cars are crossing the border on a daily basis at Malaba with the other major crossing point being at Busia, from where no such problems have been reported.
Kenya News
TOURISTS STUCK AS LOCALS PROTEST STATE OF MARA ROAD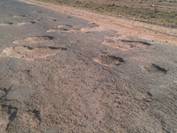 Dozens of tourists were reportedly blocked for some time yesterday (Saturday) enroute to the Masai Mara Game Reserve as incensed locals demonstrated against the continued failure by the contractor to repair the crucial access road between Narok and the Sekenani entrance gate.
Emotions over the road have been running high with safari operators too repeatedly in the past demanding that the road be fixed up on the fast track and driver guides calling for a strike if nothing would be done. Todate however, inspite of regular full mouthed assurances by government officials, the road is still in a pathetic state and no end of the snails pace construction is in sight.
The Masai Mara is one of Kenyas best known game parks and world famous for the annual migration of the wildebeest from the Serengeti. The Narok council, financially the key beneficiary through gate receipts, and central government have in the past been playing a game of contemptuous ping pong with the road, trading accusations over the responsibility to fix the road, leaving safari operators to suffer damages to their vehicles and have tourists complain about the intolerable state of the road causing many of them backaches by the time they reach the park proper. A regular source from within the safari operators fraternity sent these comments by email overnight: Going to the Mara is almost a must in every tourist itinerary. The more upmarket safaris are using the scheduled flights from Wilson to the Mara airstrips to save time and avoid this particular road and the top end clients simply fly in by chartered aircraft. But it is true, most clients, the majority, are going to the Mara using vehicles. They come by road and for them it is a torturous journey when they reach this piece of road. Many of our roads have been fixed up across the country but between Narok and the Sekenani gate it is obvious that the contractor is not up to standards. Government has options to intervene and make this happen but like with other incidents in past weeks affecting tourism, they only seem to react to a lot of pressure and when negative publicity is giving them headaches. The residents along that road have taken it upon themselves to demonstrate, because many of them make a living from tourism in shops and restaurants. They are also stakeholders. Maybe the tourism ministry can now intervene and speed up the road rehabilitation. We dont need more statements from anyone; we need machinery and workers on site and get this done before the next high season starts.
Inspite of the uncertain economic outlook in key Kenyan source markets overseas is the country expected to reach a new arrival and revenue record in 2011, giving stakeholders the strength of argument to demand greater investments in infrastructure and marketing budgets from government. Watch this space.
MAGICAL KENYA TRAVEL SHOW TO HIGHLIGHT KENYAS ATTRACTIONS
Nairobi will see the inaugural version of Kenyas own international tourism show go underway when on October 19th and 20th the industry will be showcasing the countrys attractions from its sunniest side.
The exhibition, planned for a while already, is coming at an opportune moment, giving Kenyas tourism stakeholders the opportunity to alleviate fears caused by the abduction of two foreigners in recent weeks by Somali militants and counter the negative publicity fall out with some good news.
A source in Nairobi said that they were expecting several hundred visitors and buyers from abroad but that the exhibition would also be open for Kenyans to visit and appreciate the wide range of locations and attractions being marketed.
The Magical Kenya Travel Show will also be the official launch pad for the new Kenya Tourist Board chairman Kitili Mbathi and some of the recently appointed new board members like Serenas Mahmud Jan Mohamed and Mombasa Air Safaris Capt. John Cleave who will undoubtedly use the opportunity to present a unified tourism sector to the world and concentrate on the positive developments of the industry in Kenya. The country is on course to set new arrival and revenue records in 2011 and expects to reach its targets inspite of growing fears over the global economy and recent events.
A range of new upmarket properties, in particular on the safari circuit, has in the recent past made its way into the spotlight of global tourism award ceremonies and bagged prizes and recognition, with some of the most relevant being the World Tourism Awards and the Good Safari Guide Awards, the latter of which focuses entirely on top quality African hospitality businesses, be it beach resorts, safari camps or city hotels.
The inaugural event will also be covered by the media with global travel publications and dedicated tourism media representatives in attendance and able to sample Kenyas sundrenched beaches and big game safaris.
USE QUALITY PURPOSE BUILT SAFARI VEHICLES SAYS BALALA
As part of Kenyas drive towards quality tourism and to further shed the image of being a cheap destination has the Minister for Tourism urged safari operators to move away from the use of the conventional mini busses and use purpose built 4×4 vehicles, which project the right image for safari tourism. In neighbouring Tanzania but also in Rwanda and Uganda is the use of mini busses shunned in favour of the sturdier and original safari vehicles, built on chassis of Landrover or Toyota Landcruiser make while in Kenya the use of the 9 seater mini vans of Nissan or Toyota make are more widespread and only classy upmarket operators are using the more expensive, but also more durable 4x4s.
The minister was speaking at the Annual General Meeting of KATO, the Kenya Association of Tour Operators last week, when he cited the provisions of the new tourism act giving his ministry the powers to regulate such changes.
In response did several tour company executives however get in touch with this correspondent, pointing out that in the words of one: it is fair and good what the minister says but let no one be fooled, this has to be a longish process, not to be done overnight and the cost of the 4x4s has to be reduced by scrapping import duties and taxes on them, otherwise they will be far too expensive for many tour companies. This has been promised for long and not happened, so let the minister fight for that in cabinet first and be implemented before he throws new demands at us. We have suggested that taxes and duties be fully removed from special safari vehicles and only come into effect when we sell the cars after their useful lifespan comes to an end after a few years use. Fair words and comments it must be said with a word of caution though, that such new regulations and plans must be broadly discussed and agreed and not dictated to the industry by a ministry looking only at one aspect and not considering logistics, financing and bottom lines.
WORLD WIDE FUND FOR NATURE TARGETS MARA RIVER BANKS FOR RE-FORESTATION
It was learned overnight that the Mara River, one of the key life arteries of the Masai Mara ecosystem, will get a welcome boost as some 25.000 tree seedlings will be planted from its catchment areas along the banks of the river and its key contributories. The initiative is a brainchild of WWF, which has also earmarked at least two contributory rivers flowing into the Mara River in Narok and neighbouring districts. Earlier in the week it was reported here that 62 elephant had been relocated from conflict critical areas of these districts into the Masai Mara Game Reserve, and the planting of trees is seen as a protective measure to ensure the future uninterrupted water flow in key rivers in the sub region bordering the conservancies around the Masai Mara and the game reserve itself.
Kenyas Mau forest has been in the news in recent years over governments half hearted attempt to restore the forests encroached areas but evictions have been slow in coming, inspite of the recognition that this forest, one of Kenyas most important water towers, needs restoration to its former size to avoid rivers drying outside the rainy seasons and to avoid major environmental degradations by soil erosion, often caused by flash floods which occur more and more due to the sharply reduced forest cover. Thank you WWF for doing what the Kenyan government appears unable to do themselves, or even unwilling maybe ahead of next years elections? Watch this space.
WATAMUS HEMINGWAYS GOES UPCOUNTRY
What was once upon a time the Seafarers Hotel, set on one of Kenyas best beaches in Watamu, has of course since those old days turned into the even more famous Hemingways, in this correspondents mind one of the top resorts along the Kenyan coast. The name was chosen as indeed Ernest Hemingway did frequently come to this place to go out for deep sea fishing, taking time out from his safaris which he immortalized with his book Snow on Kilimanjaro.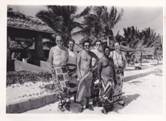 (Yours truly outside the old Seafarers in the company of then British Airways Holidays senior executive Mike Barnard [second from right] and a travel media team from the UK back in the 1970s)
Many visitors to Hemingways had in the past commented that such quality should be spread around the country and finally news were broken that the owners have indeed spread their wings to Nairobi and the Masai Mara. There Hemingways has already taken over the management and marketing of the Ol Seki safari camp, which is now renamed into Ol Seki Hemingways, located on the Naiboshi Conservancy, a fine property tailored for individuals rather than big groups, offering privacy with only 10 superior tents. Visit their dedicated website via www.olseki.com
In Nairobi, Kenyas capital city, Hemingways is set to open a new boutique property by probably mid 2012 in the forested suburb of Karen, where 45 suites will be offering guests sweeping views of the Ngong Hills, besides the already famous service levels Hemingways in Watamu has been known for the decades now. Watch this space for updates as more details become available. Meanwhile, visit www.hemingways.co.ke for more information about Hemingways as well as updates from their big game fishing expeditions.
FORMER TOURISM PS AND KTB CHIEF EXECUTIVE MUST STAND TRIAL
Behind the scenes maneuvering and legal tactics by defense teams seem to have failed for the former Permanent Secretary in the Ministry of Tourism Rebecca Nabutola and the former Chief Executive of the Kenya Tourist Board Dr. Onggonga Achieng, as news emerged yesterday evening from Nairobi that both of them have been committed to stand trial by the anti corruption court for alleged abuse of office and alleged fraud. The case has been scheduled to go ahead from 13th December in Nairobi and is expected to be concluded within a week. The duo is alleged to have used the absence of a board of directors at KTB at the time to obtain nearly 9 million Kenya Shillings for a tour of Permanent Secretaries to a game park and handed the deal to a choice operator and first broke in 2009. The matter came to a head when Jake Grieves Cook was re-appointed as KTB chairman for a second term of office in early 2008 and the board investigated the rumours flying around at the time, subsequently suspending the CEO. While Dr. Achieng was subsequently sacked by the KTB board, the PS too had to leave office to facilitate investigations but the long delay of the case had tourism observers baffled, suspecting behind the scenes maneuvers. Both accused are presently free on bail and as the case goes underway in two months, read all the details, updates and eventual verdict right here.
ADDED CHARTERS HEADING FOR MOMBASA AMID HOPES AND DOUBTS
Information from aviation sources in Mombasa tells a story of hope and doubts at once, when details become known that more charter flights, including from Poland and Russia, were heading for Mombasas Moi International Airport as of next week. The new all inclusive tour charter flights are expected to boost occupancies for the beach resorts in and around Mombasa at a time when Kenyas tourism sector is reeling from two abductions of foreigners from remote beach spots in Lamu and further north in Kiwayu. The new flights are much welcome and much needed said a regular source from the Kenyan coast before adding and it only remains to be seen how the negative headlines are affecting sales. Tour operators from abroad have been seeking assurances from us here in Mombasa and from government about security arrangements for tourists. We now wait to see how the statements given by government are translating into action. Generally we are confident that Mombasa tourism will not be affected a great deal even though travel to Lamu has collapsed because of the blanket advice by embassies not to go there. Tourists fear that their travel insurances will lapse should they go there, and those handling excursions are also worried that if something should happen they might get sued for negligence. So coast tourism has two faces now, the Lamu situation and us here at north and south coast of Mombasa. I think here we are fine, demand for safaris is steadily upward and also for forward bookings for the beach resorts. The new flights, if they sell well in those countries where they are coming from, will give Kenya a boost and this would restore confidence in other markets too. We all regret a lot of course what happened and pray for those two ladies.
Kenya tourism is still on track to produce record arrivals and revenues for the calendar year of 2011 with a broad increase of about 15 percent over and above 2010, itself a record breaking year, and new flights, to Mombasa and to Nairobi will support this trend with the arrival of yet more visitors. Happy landings to the new flights and enjoy the sun drenched beaches of Kenyas coast.
62 ELEPHANT GET RELOCATED INTO THE MASAI MARA
Information was sourced from Nairobi that the recently mentioned relocation of a herd of elephant from the Narok District in Kenya into the Masai Mara Game Reserve has been concluded earlier in the week, after a total of 62 animals, instead of the initially envisaged 50 had been captured and taken into the park.
Increasing wildlife human conflicts have emerged in the recent past in Kenya where a growing population and their demand for food has eaten into the wilderness areas where previously game could roam undisturbed, as new settlements reach ever deeper into such parts of the country and where more farmland is opened up to grow food. These developments have also in many places across Kenya cut off the traditional migration routes of game and while some attempts have been made to keep the most crucial game corridors open, this is becoming more and more difficult to achieve. The best examples are the challenges of keeping the migration going between the Nairobi National Park across the Athi plains to wilderness areas as far as Amboseli or the Chyulu Hills, but also between the Aberdare National Park and Mt. Kenya National Park, which are now in fact being fenced off to keep game inside, hindering the migration habits imprinted on the animals mind. Further north the age old corridors between Marsabit, across the Matthews range into the Laikipia plains, where the trails would have joined the Aberdare / Mt. Kenya game highway too are now becoming built up, causing increasing concerns over the future of game management to confine the herds or to let them roam as in olden days.
KWS had targeted some 200 elephant to be captured and relocated to the Mara and with the first batch now settling in some monitoring will be going on to see how the animals settle down and how their movements are, aided by radio collars through which they can be tracked.
It is understood that the affected communities have expressed relief over the departure of the elephant, many of which regularly raided small farms and posed a daily danger to the people who moved into these areas. Watch this space for more information when the second part of this major relocation exercise goes underway in a few weeks.
KITILI MBATHI APPOINTED KENYA TOURIST BOARD CHAIRMAN
Well known banker, and during his successful time in Uganda as CEO of Stanbic Bank a close acquaintance of this correspondent, Kitili Mbathi was yesterday afternoon introduced to the public as the new Chairman of the Kenya Tourist Board by Najib Balala, Minister of Tourism in the Kenya government.
Kitili succeeds Michael Joseph, who prematurely left this appointment within half a year after bagging a highly lucrative World Bank appointment, leaving KTB in the proverbial lurch.
KTB more recently also saw new board members being introduced, beefing up competence at board level, and some of the new faces like Serenas CEO Mahmud Janmohamed, Mombasa Air Safaris CEO Capt. Johnny Cleave and widely respected audit guru Abdul Samji from Mombasa are likely to bring a fresh wind and professional perspectives to the organization during their term of office, fully understanding what it takes to market Kenyas attractions abroad.
Kitilis appointment comes at a trying time for Kenya tourism, suffering of negative publicity over the abduction of two foreigners from remoter parts of the coast far away from the mainstream tourism resorts of Malindi and Mombasa but it will take a combined effort of persuading the overseas tour operators that security measures now finally taken will stick and not sizzle out all too soon, before the Somali situation has been brought under control.
From this correspondent it is a warm welcome to Kitili on his new appointment and all the best to him and his colleagues in turning Kenyas tourism industry into the best performing economic sector in coming years.
CANCELLATIONS SEE LAMU TOURISM TAKE A BIG HIT
Information received from sources in Kenya speak of a wave of cancellations for beach resorts in and around Lamu, arguably accelerated by a directive from the tourism ministry not to close establishments even when occupancies drop to near zero, which sent further jitters down the spine of both the tourism industry and potential clientele.
Airlines flying to Lamu on scheduled services from Nairobis Wilson Airport and operating charters from Mombasa and Malindi have also been watching the developments with apprehension. While the global media hounds are presently still flocking to Lamu, the airlines do depend on a regular flow of tourists and with this gone they will have to take a close look at both aircraft size and the number of flights they can viably operate, thus expanding the fallout of the two abductions from the hospitality sector to the aviation industry. Tour operators in Mombasa are also seeing a massive drop in demand for day visits to Lamu following the wide publicity the travel embargoes by diplomatic missions in Nairobi have received, a trend aided by clauses in travel insurance packages that trips to such places might not be covered under the insurance policy and might in fact void it altogether.
Major layoffs are now looming on the horizon for resorts in and around Lamu, as well as for those further south along the coast but remotely located over fears that more abductions could be planned by militants in Somalia, if not worse. Such cowardly action is aimed to hit Kenyas thriving tourism industry in a proxy retaliation against Kenyas support on many levels for the Transitional Federal Government in Mogadishu and their determined fight against Islamic militancy in the region.
Stakeholders in the meantime are fairly united in their reaction laying the blame on the doorstep of government and citing complacency and sleeping dogs for the second abduction right under the nose of a major Kenyan naval base in Lamu. Said one source: It speaks volumes for the security on that base, what if Al Shabab had sent suicide bombers there, what then? Did they have perimeter patrols on the water, and if so why did those not spot these criminals making their way ashore and running off. Our government is only good cracking down on political dissent but when it comes to regular security they fail us big time. This is the biggest challenge to us in Kenya from Somalia since the Shifta War in the 60s and it is aimed directly at the most productive economic sector, tourism. It is time to change tunes and help the African Union in Somalia to bring peace to that unfortunate country and finish the militants or we will never have peace here.
Watch this space for future relevant updates on this ongoing story while our thoughts continue to be with the two abducted women, their families and friends.
Tanzania News
NATIONAL COLLEGE OF TOURISM FORMALLY OPENED
The Minister for Natural Resources and Tourism last week officially opened the country first National College for Tourism, a long awaited institution to teach relevant hospitality and tourism courses to provide skills to young Tanzanians wishing to join the sector. This development augments the existing private vocational training institutions and courses at university level. Tourism, a growth industry across the region, requires well trained personnel and while many existing privately owned colleges and schools offer study places, often allegedly of inferior quality producing graduates subsequently rejected by employers for lack of practical skills, those in demand regional institutes like the Kenya Utalii College, renowned for its quality education, lack the capacity to admit more students.
The unfolding grading and classification exercise across the region is also thought to spur investment in better trained staff and in house as well as external training, as the quality and experience of staff are a crucial part of the catalogue of criteria for awarding star ratings to hotels, resorts, safari lodges and camps and restaurants. The new college is reported to seek admission soon to the Association of Hotels Schools in Sub Saharan Africa, in short AHSSA, under which most leading public and private institutions are coming together to cooperate in harmonizing their curriculum and their course contents as well as examination standards, thus providing internationally recognizable Certificates and Diplomas attained under the same strict guidelines. The institute will provide for as many as 600 students to be enrolled and study at the same time.
STATEMENT BY SENIOR OFFICIAL PITS HIM AGAINST PRESIDENTIAL DIRECTIVE
Information came to light over the weekend that the Director of Environment in the office of the Vice President has for all practical purposes declared the Lake Natron Soda Ash Project as dead in the water in the absence of clearance by NEMC, Tanzanias National Environmental Management Council, which raised serious concerns way back in 2008. This, together with a vocal international campaign against the project, said to destroy the single one breeding ground available for the East African over 2.5 million lesser flamingo eventually lead to the withdrawal of interest by project promoters TATA of India. The company was set to invest about 400 million US Dollars to create a rival to Kenyas Magadi Soda Company, which is operating a similar plant just cross the border at Lake Magadi.
Earlier in the year had President Kikwete issued a directive to fast track the project and the statements made by Dr. Julius Ningu last week appear to be in direct contradiction with the wishes of the President. When we talk of sustainable use of natural resources, we mean for the benefit of current and future generation, now extraction of soda ash for sure cant be beneficial to the future generation was one of the statements made by Dr. Ningu and quoted in the media and observers are now closely monitoring the reaction from the powers that be and what fate may befall Dr. Ningu for contradicting his masters.
Several voices have already spoken out about this latest development, close on the heels of Tanzania forming its own World Heritage Site Committee last week, claiming that this was a predictable reaction aimed solely to divert attention from the true extent of government plans to push such controversial projects through, ahead of the celebration of Tanzanias 50th year of Independence in a couple of weeks. They have come to realize that there is a lot of opposition growing around the world over the plans to build a highway across the Serengeti, about the Lake Natron plans, about converting the Tanga Marine National Park into a deep sea port, about mining of Uranium in the Selous Game Reserve and they fear that this will impact on the celebrations, attendance and international profile and standing of Tanzania at this crucial time. And they are right, it will affect Tanzanias reputation and it already has. We will not let this opportunity go but continue to press for the government in Dar to abandon such plans like Uranium mining in the Selous, building a dam at Stieglers Gorge and uncontrolled foreign mining for our resources across the country at the expense of the environment said a regular contributor from Arusha, closely involved in the campaign to draw attention to what he termed environmental sins of the highest order. Others were cautiously optimistic though and were taking hope that government could indeed see sense in the arguments advanced by environmentalists, but having followed these events now for several years it may be wise to adopt a wait and see stand and let things unfold first before rendering final judgment. Watch this space for environmental developments and challenges across the Eastern African region and how mega projects can potentially destroy tourism attractions and the livelihood of people connected to the sector in favour of progress.
MORE OFFICIAL PROBLEMS AT LAUNCH OF PRECISION AIR IPO
Official Tanzania has apparently tried to throw one last spanner in the works of the ongoing IPO sale of shares by the countrys leading airline, when vital documents from the Dar es Salaam Stock Exchange were delivered late to several leading banks participating in the launch. Subsequently some banks were compelled to defer the start of handing out application forms until Monday, prompting yet more rumours of sabotage, something which has often been suspected in the past too.
Inspite of the Tanzanian governments verbal assurances towards private enterprise, it has seemingly never been too comfortable with the idea per se, and constant financial bailouts for failed Air Tanzania, instead of throwing its weight behind a successful private company, have more than once raised eyebrows amongst aviation observers, that the playing field was being tilted in against Precision Air.
Long and arguably deliberate delays in granting the airline self handling status and allowing it to break away from having to use the services of an overpriced near monopolist and the failure by TAA to connect in a timely fashion Precision Airs multi million US Dollar hangar maintenance facility with a taxiway to the rest of airport in Dar es Salaam are only two examples of how the odds were stacked against Precision.
The airlines partnership with Kenya Airways, which until now was holding 49 percent but will in the process of the IPO see its shareholding reduced to around 30 percent, has often been cited by close political observers as the main cause of the mental rejection of the carrier by leading politicians who are known to stoke paranoia against the neighbouring country using sentiments rooted in the developments of the 1970s when in the wake of the breakup of the old East African Community Tanzania shut her borders with Kenya for several years.
An attempted IPO launch earlier in the year was brought to an abrupt halt when the DSE cited a winding up petition against Precision Air as reason to stop the process, but the legal case was largely seen as frivolous and politically inspired, over an alleged claim of about 100.000 US Dollars vis a vis a business worth dozens of millions of US Dollars, eventually compelling the DSE to permit the process to resume.
About 59 million shares will be sold through a process of application, and the launch is expected to be oversubscribed by financial pundits in Dar es Salaam and the wider region. Other financial institutions reported keen interest by potential investors on the first day of the IPO. Precision is the third largest airline in the wider East African region behind partners Kenya Airways and Ethiopian and going places considering their past performance and future plans for fleet and network expansion. Watch this space.
TANZANIA LAUNCHES ITS OWN WORLD HERITAGE COMMITTEE
The Minister for Education and Vocational Training, and notably not the Minister of Natural Resources and Tourism, earlier this week launched a 7 member national World Heritage Committee, causing both applause and bafflement amongst regular pundits. Led by Prof. Kabuli the committee is tasked to, amongst other things, promote the UNESCO sites internally and work hand in hand with the Tanzania Tourist Board and other related statutory bodies, supposedly including TANAPA and the national museums. The Minister was quoted at the launch of the committee to have said: Experience has shown that there are tourists who specifically visit countries that have world heritage sites. Without mentioning them when we publicize the attractions of our country, chances of generating the full potential of revenue is slim. This however seems in stark contrast with other actions of the Tanzanian government, frequently written about here, where ambiguity and outright deception seems the order of the day when it comes to maintaining some of the most prized World Heritage Sites amongst the many UNESCO has on its list.
Tanzania presently has 7 UNESCO recognized World Heritage Sites, some of them under threat to be declared Endangered and recent spats by tourism minister Maige, who had in some anger called UNESCOs World Heritage Committee an inconsequential entity have not done much to restore friendly relations. Under founder father of the nation, the late Mwalimu Julius Nyerere, conservation was a cornerstone of Tanzanias political credo, but sadly this level of commitment has long since been discarded.
On direction of the countrys president was an application for a new site, the Eastern Arc Mountains withdrawn by the Ministry of Natural Resources and Tourism, ostensibly to permit mining and logging without external meddling as senior figures within the current political establishment in Dar es Salaam seem to think. The controversial Serengeti Highway plans, the intention to commence Uranium mining in the Selous Game Reserve, plans to build a now port right in the middle of the Tanga Marine National Park where the long thought extinct coelacanth fish was discovered, prompting the inauguration of that area as a marine park in the first place just a few years ago, the intent to harvest soda ash at Lake Natron threatening the sole breeding ground of the lesser flamingos of Eastern Africa and rejuvenated plans to build a hydro electric dam at Stieglers Gorge in the Selous have all cast serious doubts on the overall policy direction of the Tanzanian government. A regular source from Arusha, understandably concerned for their own safety and economic wellbeing demanding strict anonymity, had this to say: On one side it is a welcome development. Having our own committee tasked to be responsible for such sites is very good. But immediately the contradictions are coming to the fore. The tourism minister has it in for UNESCO, that much is clear from his past comments and reactions. Several of our sites are risking being listed endangered, like the old Stone Town of Zanzibar over a high rise hotel development, the Selous over mining and damming, Serengeti over the highway where our government is using deception if not lies to conceal their real intentions. I think Tanzania could easily have a few more UNESCO sites but that would not allow the exploitation of such areas for mining and other exploitative measures. I think and some of my colleagues think this also, this might just be a window dress to calm the storm of outrage ahead of our 50th Independence anniversary. The anti highway coalition has rained on that parade already and more opposition is forming over the other cases you have often written about. TTB [Tanzania Tourist Board] is struggling to come to term with these issues and cannot explain the controversies away, and it affects our standing, our ability to sell based on strict conservation commitments. So forgive us for being skeptical. Just ask why this was done by the Education Minister and not the Tourism Minister. That alone tells its own story.
In a related development has the recent announcement about the construction of a new railway line from Tanga to Lake Victoria, made during a state visit by Ugandan president Museveni to Tanzania last week, caused added concern in the absence of a clear commitment that the routing of the planned railway would NOT go through the Serengeti National Park but follow the present routing to Mwanza around the Southern side of the Serengeti / Ngorongoro ecosystem. Watch this space for regular updates and critical analysis of events affecting conservation in the Eastern African region.
TANZANIAS HOSPITALITY INDUSTRY BRACES FOR MORE POWER RATIONING
News emerged in Dar es Salaam yesterday about the further reduction of hydro electric power generation from at least two dams, reducing further the output of electricity available for consumers. It appears that the low level of water in the reservoirs behind the Mtera dam had lowered generating from the installed 80 MW capacity to only 30 MW while the Kidatu dams output had reduced from an installed capacity of 200 MW to a mere 40 MW as of now. While drought is largely blamed for the low water levels it is also known that the cutting down of large swathes of forest in water towers across Tanzania is responsible for the gradual degradation in the water flow of rivers, a situation worsened by the increased extraction of water for irrigation and other uses, leaving too little to reach the crucial water reservoirs of hydro electric power plants across the country.
One hotelier in Dar es Salaam, when asked about his reaction, had this to say: Electricity rationing in Tanzania is not new, but it has become a lot worse now. The use of thermal stand by plants has also affected the tariffs and our cost for the use of our own in house generators has increased a lot because diesel now costs a lot more than a year ago. Overall, our bottom lines are being affected greatly but we have no choice in the matter, we have to run our air conditioning, our cold rooms, elevators and all and that is what our guests expect and that is what we have to give them. There might be some relief in the future when the gas powered plants come on line and the gas pipeline from the field to Dar is ready, but until then we just have to bite the bullet and struggle on.
President Kikwete reportedly was briefed on the situation when he visited one of the power plants earlier in the week and has given assurances that alternatives for power production were being pursued on the fast track to reduce the often crippling power outages affecting industrial and domestic consumers.
PRECISION AIRS SHARES ON SALE AS OF FRIDAY
The long awaited IPO of Precision Air will finally go underway this Friday, when nearly 59 million ordinary shares will be floated, expected to be bringing in some 28 billion Tanzania Shillings. The capital raised is expected to help finance the airlines ambitious fleet development plans but also boost the working capital structure itself, a sound choice which surely will be reflected in future balance sheets.
Principal owners Michael Shirima and Kenya Airways will see their respective shareholdings of 51 and 49 percent reduce considerably in the process which hopes to attract institutional and individual shareholders from across Tanzania. There is some speculation that even government may invest in shares, although this would contradict official policy towards keeping ailing Air Tanzania flying, but would nevertheless be a sounder decision than pouring endless amounts of money into a national airline which has one plane and lost all market share, while suffering from crippling debts.
Shares will sell at a minimum package of 200 per applicant for 475 Tanzania Shillings each and the process is due to last until the end of October. It is expected that the offer will be oversubscribed as it is the first such opportunity for the Tanzanian financial market to acquire ownership in the countrys most successful airline.
TANZANIAN NAVY UNITS CAPTURE PIRATES NEAR MAFIA ISLAND
These fellows are getting more daring by the day now and we are really worried that there are militants amongst them who might try to do something similar here like they did in Kenya was the comment of a regular source when asked to give a perspective on breaking news of pirates being captured a short distance away from Mafia Island yesterday night.
An oil prospecting vessel was attacked by a group of at least 7 ocean terrorists of Somali origin but when the attack was radioed in the Tanzanian navy units in the area immediately deployed to intercept the pirates. Upon closing in on the pirates a fire fight reportedly ensued before the navy personnel overpowered them and took them into custody. They are expected to be interrogated by Tanzanian security in the morning before being produced in court where they will be charged with piracy, illegal entry to Tanzania, armed robber, illegal possession of firearms and a range of other charges, likely to include terrorism.
Tanzania has been benefitting of a very recent joint training exercise organized by SADC, which has been beefing up capabilities to fight ocean terrorism after the Somalis had reportedly expanded their radius all the way to the Mozambique coastline. Tanzania also recently held talks with the Seychelles towards joint responses, training and security cooperation, as the Seychelles have in the past taken the lead to robustly respond to piracy and ocean terror, recognized there as a matter of national security.
This development comes hot on the heels of abductions of foreign nationals from remote Kenyan beach resorts and the tourism fraternity has called upon the Tanzanian government to step up security and surveillance from Pemba to Zanzibar to Mafia Island and all along the coastal strip to protect beach resorts, tourists and wananchi.
As reported here a while ago it was the vigilance of fishing communities which had led to the arrest of pirates before, who when making landfall to replenish water and food were caught in the process. However, in ever more daring ways are the Somalis now penetrating further into the Indian Ocean and further South than ever before and this is now raising the stakes that Islamic militant groups linked to Al Shabab could use a new strategy to widen their area of operation and starting to strike at tourism targets and other economic and infrastructural assets, doing the bidding of their Al Qaida masters.
Subsequently have calls intensified to resolutely attack Al Shabab strongholds in Somalia while also denying pirates safe haven on land, implementing a full sea and air embargo on Somalia and beefing up the troop levels of the African Union force to expand operations. This however may call for a change in mandate from a peace keeping mission, a misnomer in any case, to allow for offensive operations until peace has been restored in Somali, a representative government installed and a major reconstruction effort can bring back economic activity and inject some level of prosperity back to the country divided by civil war and strife since the overthrow of the Siad Barre regime in 1991. Watch this space.
Rwanda News
JAPAN TARGETTED BY RWANDA TOURISM FOR MORE VISITORS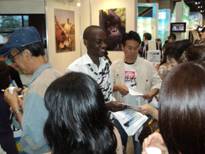 The recently concluded JATA 2011, Japans if not South East Asias leading travel show, was once again attended by a delegation from Rwandas tourism fraternity, ever keen to open new markets and attract visitors from that part of the world to come and see the attractions of The Land of a Thousand Hills.
Rwanda first went to Japan in 2006 and has since not missed a single date with JATA, always having RDB Tourism and Conservation partner with private sector stakeholders in a proven format.
Rwanda recorded over 2.000 Japanese visitors last year and expects to see this figure rise in the future as a result of their continued participation in JATA. Reportedly stands from Kenya and Tanzania were also exhibiting during the travel show, though Uganda was notably absent from the event, leaving the field for in particular gorilla tourism to their Rwandan neighbours.
During JATA were charity auctions held in favour of the victims of the earthquakes and subsequent Tsunami earlier in the year, raising both funds and attention to the ongoing plight of the affected areas in Japan.
RWANDA TOURISM LAUNCHING CONGO NILE TRAIL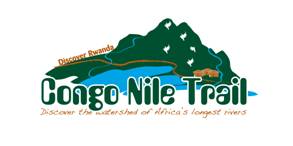 In another remarkable show of innovative spirit has the Rwanda Development Board Tourism and Conservation in recent months developed a new trail, which will take visitors to the continental watershed, from where Africas two most important rivers, the Nile and the Congo are being fed.
A ten day trail, shorter sections will be available it was reliably learned, allows tourists to walk the forests, mountains and hills of Rwanda and trail the divide over a distance of 227 kilometres between Rubavu to Rusizi, passing through the districts of Karongi and Nyamasheke. Those who dare to take the trail will be rewarded with extraordinary insight into not just the facts of the continental water divide but will come face to face with a little touched wilderness, birds, game, insects and a flora second to none.
As many as eight base camps have been set up by RDB Tourism and Conservation along which two main sections of spectacular hiking can be done and in addition as many as four sub trails will lead off to attractions not too far from the main trails.
The formal launch of the new tourism product is expected to be announced very soon but is likely to be in late October or early November, in time for the high season when tourists from around the world are expected to flock to Eastern Africa before, during and after the festive season, and with Rwanda now well connected by air by airlines such as RwandAir, Brussels Airlines, KLM but also Kenya Airways and Ethiopian Airlines, amongst others, getting to The Land of a Thousand Hills has become easier than ever before.
Rwanda presently has three national parks, the world renowned Parc de Volanoes, the Home of the Mountain Gorillas, the Nyungwe Forest National Park and the countrys sole savannah park Akagera. The new trail though is expanding the countrys nature experiences to new areas in line with a long standing policy of diversification, which in recent years saw birding trails and lake cruises introduced for the benefit of repeat visitors to the country. Watch this space for upcoming announcements but remember, you once again read it first here.
GISHWATI FOREST IS LINED UP AS RWANDAS NEXT NATIONAL PARK
Sources close to the Rwanda Development Boards Tourism and Conservation Division have confirmed earlier in the week that Gishwati Forest, featured recently in RwandAirs inflight magazine INZOZI, has now been designated as a tourism attraction, confirming suggestions by this correspondent some months ago already that this unique forest could soon join the better known Nyungwe Forest as a national park, which would bring the total number in Rwanda to four.
Close cooperation with leading NGOs has steadily improved the knowledge in recent years about Gishwatis unique features and provided an inventory of flora and fauna helpful to make sound and well informed decisions about the forests future use.
The Iowa based Great Ape Earth Park Trust has been at the forefront of putting Gishwati forward as a candidate for parkship to be bestowed on the ecosystem, but the Rwanda government itself has alongside this earmarked Gishwati for further re-forestation, aimed to close the gaps towards both Nyungwe Forest as well as towards Lake Kivu. In this respect it is worth mentioning that the size of the forest now stands at just under 1.500 hectars, up by almost 2/3 in size from 2008, when the conservation measures were started, a glowing endorsement for Rwanda and an example for much of the region where the trend still goes into the opposite direction.
Just over a dozen chimpanzees, almost cut off from the rest of their kind in Nyungwe, have been found to reside in a section of Gishwati and growing the forests together again would allow them to migrate and interact with other groups, and importantly find fresh DNA injections into a hitherto rather isolated group now prone to inbreeding.
Should Gishwati, as this correspondent expects, become Rwandas fourth national park, it would open the doors to more tourist visitors, who at present on a trial basis are allowed into the park three times a week with guided tours. Although compared to Nyungwe the infrastructure with trails and for instance another canopy walk are not yet there, the intention is to establish such facilities together with a proper visitor centre in coming years. Gishwati, another rough jewel about to be polished up and shown off to the world. And remember, you read it first here as so often before!
Ethiopia News
ETHIOPIAN TO COMMENCE SEYCHELLES FLIGHTS
From the middle of November onwards will Ethiopian Airlines begin flights from Addis Ababa to Mahe, the Seychelles international airport outside the capital Victoria. It is understood that a B737-800 aircraft will be used for the service, which initially will connect the two countries three times a week. The new route will make ET the second airline after Kenya Airways, which also flies three times a week from Nairobi to Mahe and is hopefully a precursor to yet more African airlines seeking traffic rights and connecting Seychelles Another World with the rest of the continent.
It is understood that Ethiopian Airlines will mainly seek connecting traffic from across its extensive African and international network although Ethiopian citizens too can now fly nonstop to the archipelago, where they need no Visa but only have to show a return ticket, a confirmed hotel booking and sufficient funds for their stay on arrival.
The Seychelles Tourism Board has special promotions for visitors from the African continent, covering a wide range of budgets which makes holidays on the Creole Island Paradise both affordable and also special.
Mahe is to be ETs 64th destination worldwide and the commencement of flights will go hand in hand with a dedicated promotional campaign across the airlines network, from which the Seychelles tourism industry is going to benefit with more arrivals.
The country is on course to break the 2010 arrival and revenue record by a wide margin this year, a result of the addition of Mahe to the network of several airlines during the cause of the year. Happy Landings!
ETHIOPIAN AIRLINES SNEAKS IN AN ADDED 4 B777 ORDERS
In a rather stealthy way has Ethiopian Airlines apparently ordered yet another 4 Boeing B777F aircraft, as it just became known and confirmed by a source in Addis Ababa.
The airline had kept this development secret but when news began to leak through international aviation blogs, Boeing did finally confirm the order, which makes Ethiopian the first African airline to get these birds into their fleet.
Already engaged strongly in the aviation cargo business, the order of these brand new long distance aircraft will substantially boost ETs capacity to play a bigger role in flying cargo from around the world into Africa. This development comes hot on the heels of neighbour Kenya Airways entering the air cargo business too, with the acquisition of a B747F soon to be followed by the arrival of as many as three B737F, which will be deployed to deliver and collect cargo from across their own African network and feed through KQs Nairobi hub, where air cargo is already big business, though until now mainly for other dedicated cargo airlines.
Ethiopian and Kenya Airways both pursue similar strategies and with ET presently working towards membership in global leader Star Alliance, Kenya Airways is already an associate member in rival Sky Team, which is led by the KLM Air France Group.
The two airlines are aggressively rolling out a comprehensive Africa network aimed to cover all commercial and political capitals, connecting through their respective hubs while at the same time also expanding their international destinations to key markets, though both airlines expansion plans were thrown into some turbulence as a result of the long delays in the delivery of their B787 orders.
In contrast, the other big airlines on the continent, South African Airways and Egypt Air, are struggling to play catch up now. Egypt Air continues to struggle with the fallout of the political revolution earlier this year when they had to suspend most of their flights and has lost crucial points in the perception market while South African Airways appears to have the disadvantage of flying from Africas southernmost country not as well suited to copy the success story of its East African rivals due to geographical challenges.
Watch this space to learn when the new freighters will be delivered to Ethiopian Airlines and to get the most up to date news from the East African and Indian Ocean aviation industry.
Mauritius News
CULTURAL HERITAGE CONSERVATION PROGRAMME LAUNCHED IN PORT LOUIS
Earlier in the week did the Port Louis municipal council, jointly with the US Embassy, launch a cultural heritage conservation programme. The initiative is aimed to preserve and promote the islands heritage beyond the two globally recognized UNESCO World Heritage Sites Mauritius already has under her belt. Best known for its beaches and deep sea fishing Mauritius attracts hundreds of thousands of visitors every year and highlighting cultural heritage is closely linked to the tourism industry, as it gives foreign tourists an insight into the history of the island. UNESCO World Heritage sites are prized assets when it comes to promoting tourism and Mauritius is no different from making best use of already recognized but also other less known sites to provide more to see than just sun and sand.
Seychelles News
SEYCHELLES TO HOST NEW ANTI PIRACY UNIT
The authorities in the Seychelles, already at the forefront of the fight against the ocean terrorists from Somalia, have reportedly agreed to jointly set up and host a new anti piracy unit with British Metropolitan police specialists from the Serious and Organized Crime division. The newly constituted team is taking aim to track, disrupt and bring down the financiers and masterminds behind ship hijackings, using all available means already employed to track, disrupt and destroy other terrorist networks threatening global liberties and freedom.
Based on the island of Mahe the unit will follow the money trails, and collect evidence against in some cases already suspected criminals who make huge returns from the ransom extracted from shipping lines which they then invest back into drug and arms trafficking according to information received from sources in Mahe.
This development has been hinted at already several months ago when this correspondent interviewed the Seychelles Minister for Home Affairs, the Hon. Joel Morgan, who was outspoken and candid over his countrys views on the curse and how the government in Victoria intended to tackle piracy from all directions. The interview was subsequently published through eTNs Executive Talk and can be accessed through the following link for the entire interview: http://www.eturbonews.com/23431/etn-speaks-seychelles-minister-hon-joel-morgan
The Seychelles have, besides being a leading member of the naval coalition, substantially boosted their naval and aerial capabilities over the past two years, given intensive training to Seychellois personnel both abroad and within the theatre of operations. The government of President James Michel has also given the United States an operational base for several unarmed UAVs which are on constant patrol over the Indian Ocean to protect the territorial waters of the Seychelles and the sea-lanes at large, able to direct surface assets towards targets to either scare off, intercept or destroy. In several daring operations have the Seychelles coast guard also freed hijacked vessels without the loss of friendlies, and brought a number of pirates to justice in swift prosecutions ending with prison terms of in average 20 years for the criminals. Additionally have the Seychelles closed ranks with African mainland governments to share intelligence information, joint training and to use bilateral and multilateral operations to intercept pirate motherships and skiffs when they have been identified from the air. As a result of their determined and robust exchanges with the ocean terrorists has the country attracted substantial material aid and support in their fight and gained significant political standing within the global community. Watch this space.
ALDABRA THE APPLE OF THE EYE IN THE GARDEN OF EDEN
Splendid isolation comes to mind when looking up Aldabra, the worlds second largest coral atoll and part of the Seychelles archipelago. Aldabra is so large in fact that the entire main island of Mahe would comfortably fit inside the atoll, not that anyone would want to try that of course. Closer to Madagascar or the Comoros, both just over 400 kilometres away, compared to the main Seychellois inner islands which are nearly 1.150 kilometres distant from the atoll, Aldabra gained the coveted status of a UNESCO World Heritage Site on 19th November 1982 and is since then managed by the Seychelles Island Foundation alongside the Vallee de Mai, a second UNESCO World Heritage Site on the island of Praslin.
The name alone has a certain ring to it and the origin of the word is thought to be found in ancient Arabic, coined in the days when dhows traversed the Indian Ocean with the trade winds, along the East African coast and to the scattered islands way out in the ocean. Coast lines and islands were visited by traders from Persia, Oman, Yemen and other sultanates in search of precious stones, gold, ivory, spices, tropical hard wood as well as mangrove poles and of course slaves and it is thought that many of those seafarers knew of Aldabra and may have used the island to replenish fresh water, catch some fish and hunt some of the huge giant sea tortoises and other marine life for food and trophies.
The UNESCO World Heritage Site Vallee de Mai remains the Seychelles most visited tourism attraction, and with its growing income co-finances the research and conservation activities on Aldabra, since few tourist visitors are able to make the trip to Aldabra due to the complex logistics required. The resulting cost of such a trip, exciting as it may of course sound to get there and become one of a very few humans who ever set foot on the atoll in modern times is simply prohibitive for most of us walking under the sun, and maybe even for those who can happily afford the often extravagant luxuries of some of the Seychelles world class resorts. Unlike the Galapagos Islands which can be reached by air and sea in well organized and meanwhile often oversubscribed tours and with which Aldabra to a point at least can be compared, the natural attractions of the atoll, including over 100.000 giant sea tortoises are unique and literally untouched. Only a small crew of researchers resides semi-permanently on the atoll, at times complemented by visiting study groups from leading universities or marine and climate research institutions from around the world. They all follow in the footsteps of such famous explorer names like Charles Darwin and Capt. Jacques Cousteau, the former who visited this part of the Indian Ocean in the 1870 who knows if it was not his visit to Aldabra which ultimately inspired his theories of evolution and the latter more recently in the mid fifties of the last century. One other very high profile visitor was the Princess Royal a few years ago, greatly helping the Seychelles Island Foundation to attract attention to their challenges for funding, as it is always good to have friends in high places.
A couple of hundred intrepid tourists per annum at most have come to Aldabra in recent years although prior to the global economic and financial crisis this number had reached the magic 1.000 that year. Those who do come either take a day trip by boat from Assumption, the nearest island with an airfield, or else come with their ocean going yachts, anchor offshore, visit during the day for guided tours and then return to sleep on their boats at night. Either way, a visit involves some serious advance planning and logistics to be put into place and when that is all done the weather too plays an important role as the 20 odd mile journey across the ocean from Assumption can be very rough indeed at certain times of the year. When the few privileged intrepid adventurers then finally depart again, after exploring the various islands making up the atoll under the strict supervision of their Aldabra based guide, they are supposed to leave nothing behind on the atoll but their footprints in the sand this is a standing rule and strictly observed and enforced.
There are few destinations as remote and as difficult to access by visitors than Aldabra and it explains the pristine marine environment and untouched vegetation on the atoll the handfuls of visitors every month, at times there are none at all for weeks, create less impact and less damage to the environment. In fact, climate change and rising sea levels presently pose very likely a greater threat to the Aldabra atoll than a couple of hundred more visitors would, and the Seychelles Island Foundation has been very keen to see tourist numbers rise to help pay for the substantial expenses of keeping research crews so far away and supply them by boat from Mahe. It is clear from a detailed conversation with SIF Chief Executive Dr. Frauke Fleischer-Dogley that the Seychelles Island Foundation has a limit of annual visitors in mind to preserve the integrity of Aldabra and protect their research from becoming polluted, but for now, with visitor numbers also driven down by the presence of Somali pirates in the expansive waters between Mahe and the atoll, this seems a long way off before any limit needs announcing and enforcing.
On the downside has it also been reported that floatsam and debris is now being carried in increasing quantities to the atoll from far away, following the prevailing currents, evidence of just how polluted our oceans have become and that even at the remotest of places, deep in the open waters of the Indian Ocean, rubbish still makes its way to the shores and beaches, posing a significant and growing risk to marine life and serving as a reminder how urgent it is to treat our oceans with respect. Unless that is they are to become the worlds largest rubbish disposal site, probably with long term disastrous consequences for marine life and commercially harvested fish.
Repeated Aldabra exhibitions in Paris and Victoria have helped SIFs team to keep the attention of the global conservation and research fraternity at a constant high and helped raise additional funds to continue the often groundbreaking work on a number of ongoing, some say historic studies underway on Aldabra.
The distant and remote location in fact adds some historical spice to the story, dating back nearly 100 years, when the Imperial German Navy light cruiser Koenigsberg and her supply vessel the Somali played cat and mouse with the Royal British Navy along the East African seaboard at the onset of the First World War. In a perfectly executed game of hide and seek in early August 1914, just after war had been declared, did the Koenigsbergs Captain Max Loof defy the overwhelming odds when he managed to outrun the British cruisers in pursuit after his stealthy departure from Dar es Salaam and then drove his light cruiser, about 125 metres long and just under 3.100 tons, into the Aldabra lagoon through the Grand Passe or Main Channel, a coral reef lined passage about 700 metres wide and extending about 2.5 kilometres into the lagoon. Joining them in there was his supply vessel Somali allowing the Koenigsberg to bunker much needed coal and other supplies to be able to run back to Tanganyika and commence extended operations along the Eastern African coastline all the way down to Yemen. According to information made available by Glynn Burridge of the Seychelles Tourism Board the original rendezvous place for the meeting of the ships was to be the Rufiji Delta in the then German colony of Tanganyika which however had to be abandoned as the British navy had started to move additional ships into the area to hunt for the Koenigsberg and to deny the German troops in Tanganyika a strategic asset, able to deliver supplies and to even further disrupt and threaten British naval operations from their own colony in Kenya and beyond than that single light cruiser already did during its time.
The British navy must have been somewhere in the vicinity of Aldabra during the visit by the Germans but was unable to spot the well concealed German navy ships and probably also concluded from their maritime maps and on site assessment that there was no way a ship of that size could sail into the inner atoll. The British did eventually catch up with first the Somali and later the Koenigsberg herself in the war in the Rufiji Delta after suffering some humiliating losses caused by the German warship, but that cat and mouse game went on longer than intended as a result of the bravery of the Koenigsberg and Somali crews, who defied the odds and achieved a naval first, not since repeated of entering the Aldabra lagoon. In fact, entering the lagoon through any of the four main channels today is no longer permitted for commercial traffic and considering the dangers of ocean swells and rushing waters at tide and ebb any attempted entry would be quite dangerous in any case. The other main passages are the Western Channel, suitable only at calm weather and high tide for small craft, the Passe Houareau or East Channel equally only suited for smaller crafts and the just as difficult to navigate Johnny Channel although several other smaller inlets exist between the four larger and plenty of smaller islands making up the atoll.
But back to the present day Aldabra, leaving the events of the First World Wars Indian Ocean naval hunts behind us, interesting as it might be for war history buffs.
For conservation conscious Seychelles, which holds the world record of having more than half of its territory protected as terrestrial and marine national parks, as nature, bird and ocean reserves on public and private land, Aldabra, distant as it may be from the capital Victoria, is surely the prized apple of the eye of their conservation efforts. The Valle de Mai, which undoubtedly is better known for its uniquely shaped coco de mer nuts remains the most visited tourism attraction on the Seychelles but it is Aldabra which most reminds one of the original Garden of Eden for marine life and birds and coral island vegetation left literally untouched for hundreds of years and therefore entirely intact. Extensive mangrove forests, tall as no longer seen anywhere else and never really harvested by man in recent memory, provide an ideal environment for the often thousands of giant tortoises and other marine life calling Aldabra their home. Birdlife too is significant, both in terms of numbers and in terms of species. Reports from the Aldabra community have talked of finding crabs weighing several kilograms and fish larger than usual, probably a result of the nearly total absence of humans who would otherwise constantly raid marine life and reduce the populations starting from the big guys which nowhere else are now found in such abundance and with such regularity than in the waters inside the atoll and around Aldabra. The atoll therefore provides an insight into what our oceans used to be like in ancient times and the ongoing research gives us the data to compare the changes over the past decades caused by pollution, rising water levels and increased water and air temperatures and what impact to marine life this has caused and is continuing to cause.
The Seychelles Tourism Board has information about the atoll as has the Seychelles Island Foundation on their websites, for all those who are keenly interested to peep in from the distance via cyberspace, but once the bug has bitten, undoubtedly the intent will be to visit in person one day, as it is for sure the case with this correspondent. Aldabra for now remains one of the last frontiers still to be fully explored by humanity and it can only be hoped that it will be done so with extreme caution and care by conscious researchers and explorers able to appreciate the pristine environment they find and leave behind only their proverbial foot prints in the sand when they leave, richer by a rare and priceless experience and turned in to advocates for conservation. Seychelles Truly Another World.
www.seychelles.com www.seychelles.travel www.sif.sc
Getting there: By air from Mahe International Airport to Assumption Island, STOL capable concrete airfield of 3.963 x 41 ft with GPS data available through SCAA and SATC, and then 3+ hours by boat each way weather permitting, to be arranged in advance through the Seychelles Island Foundation offices in Victoria, or else by supply boat or private yacht or explorer cruisers, anchoring off shore as there are no sleeping quarters to be had for ordinary tourist visitors. Permission / clearance to visit must be pre-arranged through the Seychelles Island Foundation in Victoria and immigration procedures, for those travelling there from abroad, must be followed ahead of landing on Aldabra.