RWANDAIR'S LATEST AIRCRAFT ACQUISITION ON THE WAY TO KIGALI
(Posted 25th June 2015)

A second brand new Bombardier Q400NextGen aircraft is enroute now to Kigali, after being officially handed over by the manufacturers in their assembly plant outside Toronto / Canada. The plane, like all others on the RwandAir fleet, is configured in a two class layout of Business and Economy and brings the overall number of Bombardier aircraft the airline operates to four, alongside four Boeing B737NG's of -800 and -700 makes. Rwanda's Civil Aviation Authority has put the aircraft, which was acquired through a long term lease arrangement, on its registry as 9XR-WM.
The fleet expansion will help to support RwandAir's ambitious growth plans in terms of both destinations and extra frequencies on high demand routes, generating the transit traffic needed to support wide body operations from 2016/7 onwards. At that stage will two Airbus A330-200 join the fleet to launch long haul flights to a number of destinations, but reportedly also to Lagos to where the airline presently operates daily services on B737-800NG aircraft.
Senior government officials including from the Rwanda Civil Aviation Authority, invited guests from Rwanda's corporate world, the media and rank and file of the airline's Board, management and staff will be at hand tomorrow when the plane arrives after a lengthy ferry flight from Canada into the heart of Africa.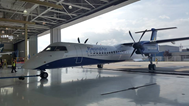 From this correspondent, who will miss the occasion due to other assignments, the best wishes for Happy Landings to crews and passengers travelling on this aircraft.