EARTH WORKS AT NEW BUGESERA AIRPORT SHOW PROGRESS

(Posted 18th June 2018)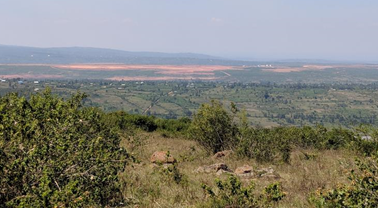 Impacted upon by the torrential rains Rwanda experienced a few weeks ago has work at the Bugesera International Airport site resumed in full and substantial progress has been made, as can be seen by a picture taken from the distance showing the extent of earth works already done.
The present deadline to complete the construction was pegged on the year 2020, when Rwanda will also host the Commonwealth Summit and the country hopes to showcase their new airport to the international visitors from around the world.
The airport is being developed under a Private Public Partnership whereby developer Mota – Engil Africa – the same company carrying out the construction of much of the new SGR railway in Tanzania – will hold 75 percent while Rwanda's special purpose company Aviation Travel and Logistics Holding holds 25 percent of the shares, while Mota – Engil will then operate the airport under a long term concession of 25 years with an extension possible upon agreement by the two parties.
Once complete will the airport become the second major international gateway for Rwanda besides the present Kigali International Airport, which as recently reported here is also being expanded once again to cater for the continuous strong growth of passengers traveling to and through the airport.
RwandAir, which by 2020 is anticipated to operate a fleet of about 20 aircraft including long haul wide body aircraft, is expected to move to the new airport when it is complete. Final word what will then happen to the present international airport is expected to come down closer to the time of Bugesera going into operations.