SAROVA HOTELS KENYA SIGN UP WITH B4CHECKIN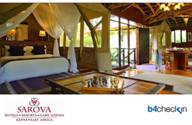 B4Checkin has been selected by Sarova Hotels, Resorts and Game Lodges to provide communication and feedback software systems to their entire chain of hotels and lodges throughout Kenya and East Africa. The implementation of B4Checkin solutions at Sarova Hotels' eight properties marks the company's first African installations and reaffirms their continued global growth in the hospitality industry.
According to the World Tourism Organization, in 2009 Africa was the only region in the world to show growth in tourism. In 2010 international arrivals rose by six percent to 49 million and data shows the trend continued through early 2011. With an increasing number of travelers being serviced by Sarova Hotels, the group needed a platform with CRM functionality that could reach guests in a meaningful manner, irrespective of their country of origin. Sarova Hotels will use B4Checkin technology to better connect with hotel patrons and measure guest satisfaction.
B4Checkin's Email Communication package and B4Feedback system are working hand-in-hand to maximize guest service for Sarova Hotels. While the customized email communications allow each property to send pre-arrival and post-stay emails to guests regardless of booking channel, B4Feedback's online comment card system makes it easier for the guest to provide feedback on their stay. Comments are text-based and received instantaneously. This allows the Hotels to better understand and remedy intermittent service breakdowns and retain the customer's loyalty. Other benefits of the proprietary automated guest feedback management system include real-time business intelligence, customizable reports and the opportunity to generate repeat bookings.
Sarova Hotels strives to continuously improve in all aspects of its business states Kulgit Rekhi, Director of Operations at Sarova Hotels, Resorts & Game Lodges. With this ethos, Sarova will use B4Checkin's cloud-based solutions to capture, centralize and manage its guests' experiences better and in real time. This activity also reaffirms Sarova's commitment to environmental causes. Additionally, Sarova plans to enhance its contribution towards its CSR activities by capitalizing on the savings accruing from reduction in the use of papers, etc. With a robust growth plan for East Africa, Sarova hopes for mutually beneficial partnership with B4Checkin.
B4Checkin's Email Communication package and B4Feedback Online Comment Card system are now in use at the Sarova Stanley, Sarova Panafric, Sarova Whitesands Beach Resort & Spa, Sarova Mara Game Camp, Sarova Lion Hill Game Lodge, Sarova Shaba Game Lodge, Sarova Taita Hills Game Lodge, and Sarova Salt Lick Game Lodge.
It is our commitment to bring innovative, cost-effective software solutions to the worldwide hospitality industry said Saar Fabrikant, President and CEO of B4Checkin. Recent installations in Africa add to our international presence, helping to make B4Checkin a truly global provider of online reservation management and guest satisfaction measurement tools.
Novel ideas, creative solutions no longer strangers to Africas key hospitality markets. Watch this space.