SAUTI ZA BUSARA ENDS ON HIGH NOTE

East Africa's – if not the continent's – biggest and most respected music and performing arts festival Sauti Za Busara ended this evening in Zanzibar on a high note after reaching new visitor records across the 4 days the 10th anniversary edition of the festival.
'This was the best I have seen yet and I was here several times so far. The organizers promised a lot and delivered even more. Great bands, great performers and an atmosphere like no other festival in East Africa. No problems with security but of course flights were full, ferries from Dar es Salaam were full and the small hotels and lodgings in and near the Stone Town were all full too. I met many friends from previous festivals and many asked in fact if you were by any chance in Zanzibar. They were checking your blog posts for live updates or checked your Twitter TL for updates and were disappointed to see you were somewhere else. After all this was the 10th edition of the festival and you have always pushed it in your articles as the real thing in East Africa' wrote a periodic source from Zanzibar by email, after clearly enjoying the performances and shows and the hospitality once again of the Zanzibari people.
It was also learned that Sauti Za Busara's organizers have launched a picture competition where those who were there can submit their best shots to busarapress or else to busara by 20th of February, i.e. latest on Tuesday this week, to be considered for honours and prizes.
Watch this space for upcoming news about Sauti Za Busara 2014, the dates and the deadlines to apply for participation as a performer, band or solo artist and when to submit films for consideration.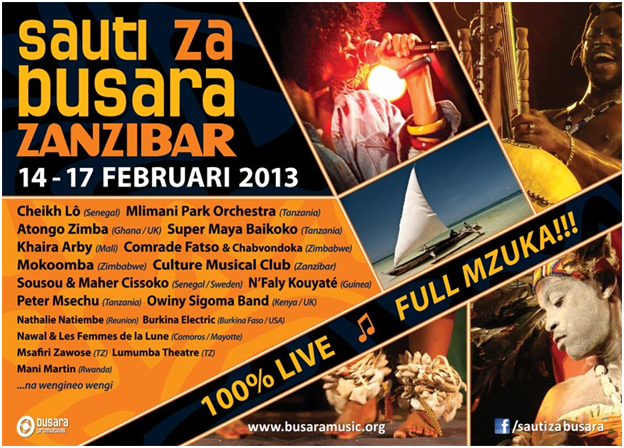 Visit www.busaramusic.org for more information or check out the pictorial on the festival's Facebook pages via https://www.facebook.com/sautizabusara