SEYCHELLES AND LA REUNION TO CO HOST ANNUAL CARNIVAL FESTIVAL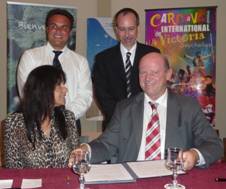 The two Vanilla Islands of La Reunion and Seychelles last week signed a pact to be joint hosts of the second edition of the annual Carnaval International de Victoria, a ground breaking move to have other Indian Ocean islands participate to a wider extend in the organization of what has already become, after only one edition, a much talked about cultural event with participants from all over the world.
Alain St. Ange, Chief Executive of the Seychelles Tourism Board signed the MoU with his counterpart Mrs. Jacqueline Farreyrol, in the presence of the President of the French Region of La Reunion and the Seychellois Minister for Internal Affairs, Environment and Transport, the Hon. Joel Morgan, who represented the President of the Seychelles H.E. James Michel.
Notably do both the head of state of Seychelles and the president of the region of La Reunion hold the tourism portfolios, a sign how important the sector has become to the national economies of both islands.
For carnival aficionados take notice, the next on in Victoria will take place between March 02nd an 04th and as a result of the huge media focus on the event last year, the island is likely to be fully booked as will be flights, so now would be a good time to make a date with the Seychelles and book a holiday coinciding with the Carnaval International de Victoria. Seychelles Truly Another World.