SCCI set to launch tourism awareness campaign
(Posted 06th May 2015)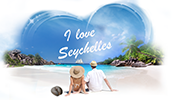 The Seychelles Chamber of Commerce & Industry (SCCI) has moved to launch a tourism service awareness campaign and has called on the Seychelles Tourism Academy (STA) to work in partnership with them. The Chamber of Commerce and Industry (SCCI) is proposing a revamped "U-First" style campaign that was discontinued sometime ago following years of having successfully worked to develop a culture of service in the island's tourism industry. Mr. John Stravens is well remembered as having spearheaded the "U-First" campaign as its Chairperson.
Today it is again the same Mr. Stravens, now a Councillor at the Seychelles Chamber of Commerce and Industry (SCCI) and Chairperson of the Tourism Sub-Committee of the Chamber who has been nominated to work with the tourism trade to champion the initiative that will assist in bringing once again the focus on the product and on the service provided in out key industry. As a first step forward the SCCI has moved to form a sub-committee to launch a new service campaign awareness among the population vis-a-vis the Tourism Industry.
The sub-committee called on Alain St. Ange, the Minister for Tourism & Culture to introduce the logic behind this campaign which will be under the theme "…MON SESEL SA , a theme highly welcomed by the Minister who offered the full support of the Ministry of Tourism and Culture.
The Chairman of the sub-committee, Mr. John Stravens who is also the former Chairman of the U-First Campaign Committee, and its members, explained that the main objective of the campaign is to be the motor of awareness for the population to be more attentive and pro-active in regards to the service delivery, especially in the Tourism Sector.
The campaign is expected to start off with the Tourism Academy (STA) students, as they are the growing pillars of the Tourism Industry followed by the local community since the objective is to go into the community to bring to the fore front the different based community activities that are of potential for tourism interest and which could bring possible benefits to these activities.
Mr. Stravens also mentioned that other organizations are welcome to join the committee, as it will be a stronghold for the objectives of this campaign. Different activities have already been laid down to promote the campaign which would be announced in the coming weeks.
To end, Mr. Stravens said that Tourism is very important for the growth of the Seychelles economy and as Seychellois everyone must be very proactive and all sectors must join hands together for the betterment of this key Industry, for …MON SESEL SA.