ABU DHABIS THE NATIONAL NEWSPAPER HIGHLIGHTS SEYCHELLES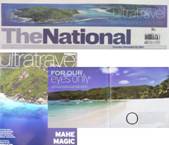 The start of flights between Abu Dhabi and the Seychelles by national airline Etihad, combined with the official opening of a new embassy by the archipelago for the United Arab Emirates in Abu Dhabi, a few days ago prompted one of the Gulfs leading newspapers to publish an extensive supplement, plus making it headline news on the front page, that The Seychelles have arrived. The supplement in particular raised the profile of the archipelago as one of the worlds greatest island destinations and will, beyond a doubt, help to fill seats on the 4 weekly flights by Etihad from Abu Dhabi to Mahe.
A beaming Alain St. Ange, Chief Executive of the Seychelles Tourism Board, was needless to say at hand to witness the opening of the new embassy, notably making specific reference in his address to the placement of a tourism attache amongst the missions staff. Almost two years ago, in January 2010, when launching the tourism ambassador scheme, he also signed a Memorandum of Understanding with the Seychelles foreign ministry, paving the way of progressively placing qualified staff in key missions abroad as tourism attaches and this, combined with a whirlwind marketing and media campaign, which started then and is still gathering strength as it goes along, has raised the profile of the Seychelles in new and emerging tourism markets. The Seychellois citizens abroad, appointed as tourism ambassadors are working hand in hand with STBs tourism offices abroad and the marketing staff back at the Bel Ombre offices of STB, strengthened by the presence of the new dedicated attaches in key regions of the world.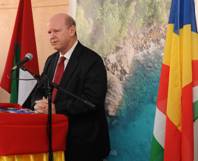 The event was further enhanced by the presence of President James Michel, who actually holds the portfolio as Minister of Tourism, signifying the importance the Seychelles government attaches to the sector, which has generated more investment, more jobs and more foreign exchange earnings than fishing or trading, the other two main pillars of the archipelagos economy. Wherever President Michel travels on official missions abroad, the tourism sector is part of the delegation, leaving no opportunity to promote the Creole hospitality and the unique attractions of the islands, where over 50 percent of the country is dedicated to nature conservation. Seychelles, truly Another World.