SOUTH SUDAN TOURISM – IT TAKES LONG TERM COMMITMENT TO SURVIVE
(Posted 21st February 2015)

The prevailing turmoil in South Sudan, which started on the 15th of December 2013, has made running a business at best a difficult proposition in Africa's youngest country and at worst impossible.
Ceasefire after Ceasefire ended in another volley of guns and a hail of bullets and agreement after agreement proved futile no sooner that the ink had dried on it. The just ended Summit of the East African Community predictably reacted to those developments and told South Sudan that joining at this time was not an option while reportedly behind closed doors telling them that not only did they need to harmonize laws, regulations and more but find lasting peace before expecting their application to be considered.
Tourism business has of course under the circumstances literally come to a halt as even the hardiest of travelers get scared by stories of expatriates being killed and vehicles on cross country roads being ambushed.
It therefore takes some admiration that Bahr el Jebel Safaris, the only real noteworthy safari and expedition operator in South Sudan – they also operate a camp and safaris in Northern Uganda – has now announced plans for a photographic workshop safari in March of 2016, giving themselves ample time to see if things improve until then.
Bruno Zanzottera will lead the expedition and give participants all his insight on how to chose motives and how best to capture these impressions, with and against the light and from various angles.
Bahr el Jebel Safaris, incidentally the only such company in South Sudan holding a full set of current operating licenses, in a communication received yesterday, had the following to say about their plans to operate such a trip:
'Join world renown Italian photographer Bruno Zanzottera on this safari for tips on photographing wildlife and tribal people of South Sudan. See the link www.parallelozero.com for a portfolio of his work.Open the web site and then in the upper right hand corner of the home page search for "southern sudan". This will bring you to four of his photo gallaries about South Sudan titled:
My life in a cattle camp
Christians in Southern Sudan
A New Nation is born
Arrow Boys
Bruno was born in 1957 and his work has been published in National Geographic, Focus, Oggi, Gente, La Vie, Geo France and Geo Germany'.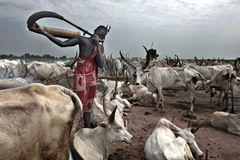 (Picture courtesy of Bahr el Jebel Safaris by Bruno Zanzottera)
At a cost of US Dollars 3.475 per person, excluding tickets of getting to Juba and back, will this trip offer an opportunity for intrepid travelers and adventure seekers to explore South Sudan with Bahr el Jebel, a company with an impeccable safety record until now and with ears on the ground to be able to determine, where it is safe to operate.
For more details about expeditions and safari to the untouched game parks in South Sudan click on www.bahr-el-jebel-safaris.com