SOVEREIGN SUITES, FIT FOR ROYALTY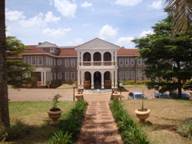 (A view of the main entrance of Sovereign Suites, a mansion extraordinaire in Limuru, outside Nairobi)
A recent trip to Kenya permitted me to make use of an extended weekend and gave me the opportunity to visit the now in soft opening stage Sovereign Suites, owned and operated by Sun Africa Hotels. Set in a property of about 6 hectares, right off the Limuru Road at Red Hill, once through the double gate a mansion of impressive size and appearance awaits. When entering the building, polished wood panels give a warm impression and the massive chandelier from the ceiling provides a soft glow of light supporting the impression one has entered into a typical Gentlemens Club in the city of London, rather than a 14 suites property in the hills of Limuru high above the city of Nairobi. Cold scented towels and a delicious chilled juice await the visitor who comes to stay, and as long as the booking particulars reflect all the required registration details, a signature suffices and one if officially a guest.
When walking beyond the entrance hall a sizeable lounge opens up, including a fire place where in days now sadly gone one could have sat down after dinner, or after lunch, to indulge in a Cuban cigar and some fine brandy or a well aged single malt in the splendid silence of a great hall. Smoking indoors is now prohibited in Kenya in public places and even Gentlemens Clubs are not exempted from this rule but the premium liqueurs and spirits at least are still available, the smell of the wood fire trying to make up for the mellow smell of good cigars.
The ambience is increased by the display, and use in the evenings, of an antique grand piano and a number of collectors items on display in the cabinets as well as in the lounges.
Though drinks are served in the lounges and around the fire place, adjoining is a contemporary bar with a large fountain while outside a terrace spreads across the length of the building, for a casual lunch, some tea or drinks outdoors where smoking is still permitted.
The dining room, next to the bar, is used for breakfast, lunch and dinner, more formal of course in the evening when jackets are expected to be worn by the gentlemen, befitting the setting, the service and the menus on offer. There is a separate dining room available for small groups of guests numbering up to 12, which can be booked in advance and the chef and his team are more than happy to discuss menu choices, tailored to the taste as well as the wallets of guests. They may still, considering it is soft opening stage now, have a bit to go to make that perfect Egg Benedict or Egg Florentine but then I grant them that I am a demanding customer. They have taken note though and upon my next return I am convinced that my critique will match those given in the past for these culinary delights and creations of other top rated kitchens in Nairobi and around the world.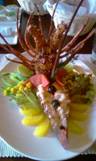 (Lobster tail for lunch on arrival day to set the mood for the stay)
As much as I tried to eat my way through the menu, two and a half days is not nearly enough for that, yet, what I did taste was good enough to require the tailor to come calling if I had stayed another week. I fancied a lot more of the Lamb Broth I had on the first day at lunch, thought the world of the cold Lobster Tails as well as of the Lobster Thermidor for dinner one evening and the next night failed to eat my vegetables served with the Trio of Lake Fish, Fillet of Beef and Supreme of Chicken as the choice I had to make, leave some of the perfectly tasting meat / fish or the veggies, was not difficult.
The true diet killers though were the desserts, so try to suspend any diet you might be on when visiting there, and resume it afterwards, with a few weeks extra to go no doubt to make up for the sinful indulgences.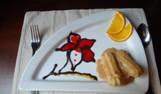 (Culinary sins no absolution asked for though)
Enough of the food, the thought about which alone is sufficient to put on a pound or two, and on to the rooms.
This was my third visit to the property, having popped in twice during the remodeling and refurbishment stages, and I was given a suite extending over much of the second floor of the building, comprising an ante room, a sitting room actually jointly owned with the opposing suite, a mega sized bedroom cum sitting room, a walk in wardrobe, a tea kitchen, a separate study and a bathroom with a personal Jacuzzi, and all for this sworn solo traveler who nevertheless thought here, as at a few places previously, that such luxury should really be enjoyed in pairs and not alone. Fit for royalty came to mind when I set out to explore me weekend home and I still found new nooks and crannies by the time I left, so large this particular suite is and so full of features.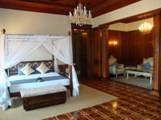 (A proper four poster bed, soft pillows and warm duvets now remind me, something was missing here )
Add to this an outdoor balcony which runs across the length of the building, with sun umbrellas, sun chairs and even tables for a quick al fresco lunch, if one does not want to dress up but stay wrapped in the soft bathrobes and wearing the slippers provided, with a view across the hills of Limuru, what more can one ask for.
I never touched any of the state of the art flat screen TVs but instead enjoyed some fine classical music from my collection on a memory stick inserted into my netbook, and I truly felt like royalty all of a sudden, as if set up in an Italian opera and all just for me.
Yes, an I-Pod dock would come in handy but I understand that additional equipment, including a personal DVD player in each suite, is already on the way and due to be installed, with another few added features, before the formal opening will take place, tape cutting and all, some time towards the middle of the year.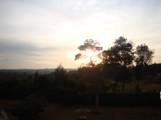 (Early morning impression from the balcony of the Presidential Suite at Sovereign)
Limuru, set high above the city of Nairobi, is a rural community with many English country side mansions and homes and has a fine safari golf club, which guests from Sovereign can access under a guest membership arrangements. Not far from the property is the escarpment from where sweeping views across Mt. Longonot and the Rift Valley, as far as Lake Naivasha, are possible. Hence, a day trip to the Rift Valley lakes of Elementaita, Naivasha or even Nakuru is easy to arrange, for game drives or just a change of scenery. So is incidentally a days hike up Mt. Longonot, an extinct volcano which is now part of a national park, to walk off some of the pounds one almost inevitably adds while being fed and pampered around the clock. In particular the Lake Naivasha Country Club, also in the stable of Sun Africa Hotels, will be delighted to arrange for a lunch, a boat trip or a spot of fishing for guests coming down from the Sovereign for the day. Alternatively, perhaps a trip further into the Rift Valley to the Lake Baringo Club for a relaxed few days, where the background music of nature is provided by hundreds of birds or else a safari to the Keekorok Safari Lodge in the heart of the world famous Masai Mara Game Reserve Sovereign is an ideal base to discover Kenya from and yet stay near the city, though not in the city.
(A view into the hills of Limuru while nearer downstairs the pool, gym and Spa await resident guests)
When my time was up, far too soon it turned out in the end, I left the skies to cry on my behalf, leaving rain behind which in Africa is a blessing bestowed by visitors to their hosts and a sure way to come back in time for the next harvest and another feast, made at Sovereign
Sovereign Suites has all the ingredients to make a fine 5 star boutique luxury hotel, and when the inevitable teething problems encountered behind the scenes during soft opening are ironed out, it has the potential to become a choice place for visitors demanding exclusivity, luxury and attention to detail and all but 20 minutes to Gigiri where the UNs UNEP Headquarters and their other offices are located. And for further reference, unless I have business in the city outright, Sovereign is one place where I am likely to be found when next on my trails across Kenya. Visit their website via info or mgr.ss to make enquiries.