SAFARILINK AND AIR KENYA TEAM UP FOR UKUNDA FLIGHTS
(Posted 29th May 2015)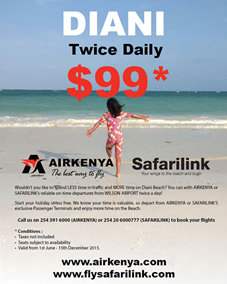 Safarilink and Air Kenya have now reacted to the launch of flights by Jambojet, Kenya Airways' low cost subsidiary, to the Ukunda aerodrome, after that airline started to offer flights twice a day.
Air Kenya, flying every morning from Nairobi's Wilson Airport, and Safarilink, which equally flies daily but in the afternoon, also from Wilson Airport, have now made tickets interchangeable, effectively giving passengers the choice of two flights a day.
'United they fly, divided they might not' quipped a regular source from Nairobi's aviation scene before hastily adding 'Truth told, most people who want to fly to Ukunda prefer Wilson because it is nearer to the city and they avoid all the hassle associated with flying from JKIA. The tickets from there are a bit pricier than Jambojet's fares but those low figures only apply when you book weeks in advance. For passengers deciding much closer to the time of travel their ticket prices also shoot up so there is in the end not too much difference between them. You save money and time from Wilson and maybe save a bit from JKIA but in the end it balances. And the good thing with Safarilink and Air Kenya is that those fly on time if you get my meaning'.
An endorsement of sorts that was from a travel operator and no doubt will Safarilink's extension of the service to Vipingo bring added numbers on the route with clients landing just minutes from the Diani resorts instead of the long and often frustrating road transfer from Mombasa's international airport.
Both airlines also fly from Wilson Airport to Lamu, a destination now also served by Jambojet and it is expected that Safarilink and Air Kenya may soon launch a similar cooperation package for their flights to again give their passengers better choices and options out of Wilson Airport, with the location probably increasingly important as the marketing battle is heating up between the two on one side and Jambojet on the other.
Watch this space for breaking and regular aviation news from across Eastern Africa.