BRUSSELS AIRLINES BREAKS NEW GROUND WITH SHIRT SPONSORSHIP OF KAVC
(Posted 22nd May 2015)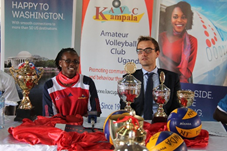 KAVC have just announced that Brussels Airlines has signed up with them to become their official shirt partner for the Men's team in the 2015 Volleyball Season. The record league champions for now is the only volleyball club in Uganda with an airline partner.
A KAVC statement obtained earlier today reads: 'KAVC is delighted to unveil Brussels Airlines as our official shirt partner in our 2015 commercial deal'. This partnership with one of the world's leading Airlines is for an initial term of one year and begins this May. Commercial value of the partnership is undisclosed. It is a partnership that is expected to grow in value in the next one year. It will see the Brussels Airlines brand appearing on our first team apparel'.
The agreement was concluded on the 21st of May, two days before KAVC play Nkumba University in the NSSF Volleyball League Launch on Saturday 23rd May 2015 in the MTN Arena Lugogo starting 6:00 p.m.
KAVC is one of Uganda's leading volleyball clubs with a self-financing model and aims at enhancing its commercial values in the coming years, the statement added.
KAVC president Mofaht Masaba said after signing the deal: 'We believe that Brussels Airlines will play a key role in helping us improve not only at the domestic front but the continental stage as well'. KAVC in March 2015 played at African Club Championship in Tunisia.
Brussels Airlines Country Manager Mr. Sebastiaan Spijkers in turn commented that 'the partnership with KAVC is one of our CSR and also to see that the volleyball grows in Uganda'.
Brussels Airlines earlier on had sponsored KAVC Head Coach Shilla Omuriwe Buyungo and Tonny Lakony to a six months long high performance training course in Germany.
Added Sebastiaan in closing: 'We also airlifted the Lady Volleyball Cranes to Netherlands for a two weeks training camp in 2014'.
The deal has affirmed that Brussels Airlines remains a firm favourite with Ugandans traveling not just to the European capital city of Brussels but further to Europe and even North America, where flights to Washington will shortly resume for the summer season, besides the daily service from Brussels to the Big Apple, aka New York.