LEOPARD BEACH RESORT AND SPA BREAKS NEW GROUND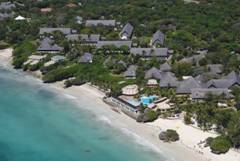 Arguably today the finest large resort along Diani Beach, itself one of Kenyas best, the Leopard Beach Resort and Spa is entering a new phase in its long and successful existence. Officially opened in December 1974, the hotel instantly became a travelers favourite, and after changes of ownership at the beginning of the last decade started a journey of modernization and upgrading to more luxurious levels of accommodation, service and food, when veteran hotelier Chris Modigell came on board. The resort grew from initially 90 rooms to now 158 villas, suites, superior garden view, superior ocean view and standard rooms, offering the level of accommodation, catering for all tastes and budgets.
Voted domestically six times as Kenyas Best Beach Resort, twice as Kenyas Best Weekend Get Away more notably it gained international acclaim when twice in succession named by the World Travel Awards as Best in 2010 and 2011. The resort is however not resting on its laurels and will this year start to add 30 2 and 3 bedroom villas as a resort within the resort in the format of a gated community, with access to the sprawling grounds of the Chui but the privacy and added private facilities for the villas residents and their guests. Said Chris Modigell in a communication sent to this correspondent: We will be setting a new benchmark for luxury accommodation at Diani Beach offering the security, services and facilities of a world class resort complemented with the space, comfort and privacy of private villas.
The fame of the resort has led to airlines in the region with nonstop flights to Mombasa putting the Leopard Beach Resort and Spa on top of their Kenyan holiday suggestion list for the famous Diani Beach. Located 35 kilometres south of the coastal city of Mombasa, visitors from Nairobi preferring not to drive find it even easier to fly from Wilson Airport directly to the Ukunda airfield, which is only 5 kilometres from the resort and spares guests the lengthy road journey through Mombasa and across the bottleneck Likoni channel.
The Leopard Beach Resort and Spa is running for the World Travel Awards once again as an official nominee and can be voted for via www.worldtravelawards.com/vote. A full list of nominations is available on the award website via www.wordtravelawards.com/nominees and in closing, Diani Beach too has been nominated again as Best Beach, so take a moment or two, visit the nominations site and give the Leopard Beach Resort and Spa and Diani Beach your vote.