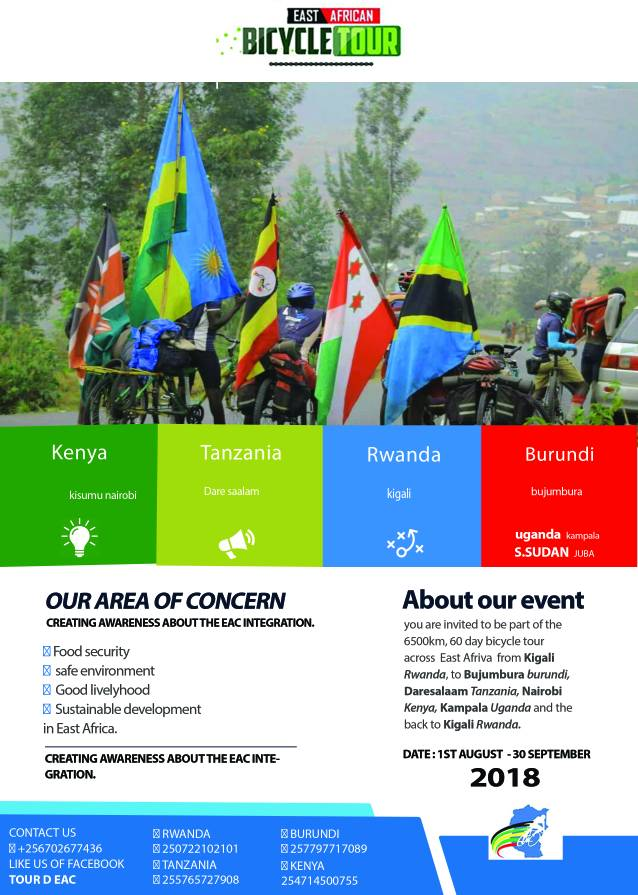 EAC BIKE TOUR 2018 BIKE SECTIONS
SECTION NAME
DESCRIPTION
1. VIRGIN HILLS
KIGALI – RUBAVU
Oh my God, who doesn't know the beauty these two nations' possess. The two countries are full of contours, hills, mountains, beautiful sceneries and above all the smile of the beautiful ladies in both countries, you just can't miss it out.
2. CONG NILE TRAIL (CNT)
RUBAVU -NYUNGWE
The CNT track, here participants will take part in the 1st Ultra

Marathon in Africa.

3. KIVU BELT
NYUNGWE – BUJUMBURA
Riders will ride along the Kivu discoveries through the Nyungwe Forest and cross the border to Bujumbura.
4. FACE OFF TANGANYIKA
BUJUMBURA – KAZURAMIMBA
We shall be riding along the Lake Tanganyika the deepest lake in the world; it should fun even stopping to swim for a minute.
5. UNYAMWEZ SECTION
KAZURAMIMBA – DODOMA
The history of Tabora town can be traced back to 1830 when it was called "Unyamwezi".

During the slave trade in mid1840s, the Arabs constructed a base in the town. The name Tabora then emerged from the ethnic Nyamwezi (the largest tribe in the region) word "MATOBOLWA" meaning dried boiled sweet potatoes.

6. IDODOMYE DISCOVERY
DODOMA – DA RE SALAAM
Dodoma used to be just a village full of trees before its naming. One day during a rainy season, an elephant drowned at the area. The villagers in that place, shocked as they were, they yelled "Idodomye!" a Gogo (the tribe of Dodoma natives) word meaning "It has sunk." For a long time since, natives and the visitors have been
1
referring to the place where "It sunk" (the elephant.
7. MKATA FLOOD PLAIN
DA RE SALAAM – ARUSHA
Comprises largely flat-laying clay deposits and which is joined by Mkata River. The Mkata River runs south to north through Mikumi National Park. It joins Wami River before emptying into the

Indian ocean, near Bagamoyo.

8. MASAI LAND SECTOR
ARUSHA – NAIROBI
Will go through Serengeti National Park and if possible head to Ngorongoro Crater to visit the Maasai villages. A village so far away from civilization and the world we

are so used to live in

9. NGALA SECTION
NAIROBI – MALABA
The Ngala Falls is located towards the Eldoret International Airport.

However, there is neither hotel nor accommodation at Ngala Falls but it's a wonderful site for picnicking and relaxing because of its beautiful scenery.

10. NILE STALK STRETCH
MALABA – KAMPALA
The Nile is the longest river in the World. It starts in Jinja and

stretches up to Egypt connecting to the red sea. Visiting the source of the Nile is a great deal. And crossing the Nile pushing bikes is fun. We shall get off our bikes and push across the Nile so that everyone gets a clear view of the falls and the.

11. DIVISION 256
KAMPALA – KATUNGULU
256 is Uganda`s Area Code.
12. DARING TRAIL
KATUNGULU – KIGALI
Here we are talking about the gorilla territory. We are riding through, the Queen Elizabeth

National Park, The

Impenetrable Forest of Bwindi, the Pygmies and the Gorilla land of Rwanda.