WAYN FOLLOWERS WANT TO VISIT REUNION
(Posted 03rd April 2015)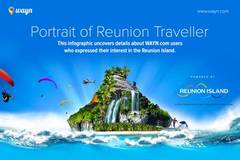 In 2013 was the island of Reunion voted as the 'most beautiful island in the world' by members of Wayn. Since then has the destination continued to attract fans from members of this social network dedicated to travelers around the world. Nearly 7,000 members claim to have already visited Reunion and there are more than 258.000 who have expressed their wish to travel to the French island in the Indian Ocean.
With over 23 million users in over 193 countries around the world is Wayn – which stands for 'Where Are You Now' – a social network with significant influence around the world. With this, the Reunion Island Tourism (IRT) had set up a communication campaign in order to promote the destination meeting as unique and fascinating island with breath-taking scenery.
Who are the members of Wayn who have already traveled to Reunion?
Currently, these are 6.933 members of Wayn who have visited the island of Reunion. These travelers are mostly from France (15%) and India (15%). Mauritius is in third place (7%), followed by the United States (5%), Britain (4%) and South Africa (3%). These are predominantly male (71%) aged between 30 and 39 years (39%).
A top five activities emerges for those travelers:
General discovery of the island (36%);
Art and culture (31%);
The outdoors and adventure (29%);
Creole cuisine and gastronomy (28%);
Festivals and events (28%).
Who are the 258,005 potential visitors?
If 6.933 people are already coming in Reunion, they are 258005 members of this social media platform to want to go there. These potential tourists are in India (21%), the USA (6%) , Pakistan (5%), the Philippines (4%) or the United Arab Emirates (3%) and the UK (3% ).
For them, the top five activities to practice in the island is:
General discovery of the island (24%);
Art and culture (19%);
The outdoors and adventure (17%);
Festivals and events (17%);
Creole cuisine and gastronomy (15%).
Today, the island of Reunion has 251,632 fans on Wayn. Ranked fourth in 2013, Reunion gained two places in the overall ranking among the destinations on the site and now leads Mauritius and Seychelles. It now ranks in second position just after South Africa.
For the co-founder of Wayn Jerome Touze is this increase the 'result of an ambitious and effective digital marketing strategy" . He recalled that "The Meeting is present on the WAYN platform from 2013 and continues to surprise. Almost 7,000 members of the community have WAYN already at the meeting on the last two years and we can observe an impressive attention since 2014, especially from emerging markets. With more than 250,000 fans in the world, […] we consider Reunion as one of the top destinations for 2015'.
Reunion Tourism's expressed objective is to pass the threshold of 400,000 fans by the end of 2015.
For added information about the island's attractions click on www.reunion.fr