KAMEMBE AIRPORT COMES BACK ON LINE TODAY
(Posted 15th June 2015)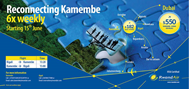 Following the successful completion of runway and related works at the Kamembe Airport by the Rwanda Civil Aviation Authority will RwandAir later today resume flights between Kigali and Kamembe.
The airline will use a Bombardier Q400NextGen turboprop aircraft, configured in a two class layout of Business and Economy for their daily flights. RwandAir has two weeks ago held B2B meetings with Kamembe based travel agents and engaged with the business community in this part of Rwanda ahead of the re-launch of services and expects demand for seats to rise rapidly to levels seen before the airport was closed in October last year.
It is a known fact that many Congolese from across the nearby border have been keenly waiting for the reopening of the airport and the resumption of flights between Kamembe and Kigali to connect from there into the network across Western, Eastern and Southern Africa and of course to Dubai.
In a related development it was also confirmed that Mwanza flights have been suspended for the time being due to poor load factors. The airline however is said to be looking into alternative routings to resume flights to Tanzania's second largest city, located on the shores of Lake Victoria, at some stage in the future.