MORE FLIGHTS TO TANZANIA'S ISLANDS AS DEMAND RISES
(Posted 14th February 2015)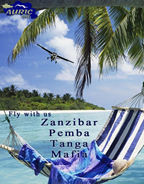 Demand for travel to the Zanzibari islands of Unguja and Pemba, but also to the more distant Mafia Island, has in the recent past shown an upward curve. The 'Spice Island' as Zanzibar is also known, has attracted charters from Europe and scheduled flights from as far as Johannesburg, helping to fill the beds of the resorts. Be it a simple beach vacation or a holiday dedicated to diving or deep sea fishing, the islands off the Tanzanian mainland have certainly attracted more attention of late and this has translated into added arrivals.
A growing number of travelers now also combine a safari on the mainland with an add on beach vacation on the islands and the country's safari airlines have equally taken advantage of greater passenger numbers and added flights. The latest announcement came from Auric Air which will effective next Monday add another morning service from Dar es Salaam to Zanzibar, allowing travelers from the island to connect seamlessly into onward flights to key safari parks, served by Auric with scheduled departures. This brings the total number of flights between DAR and ZNZ by Auric to now five a day.
Other safari airlines like Coastal Aviation (up to nine daily flights from Dar) for instance have signed a deal with Fastjet, connecting passengers off their Johannesburg flights to Zanzibar and vice versa while Precision Air and Kenya Airways, among others connect Zanzibar from their respective hubs. FlyDubai too has added Zanzibar in November last year and are now extending several of the their flights to Dar es Salaam on to the island.
The ongoing Sauti Za Busara Festival has seen Zanzibar hang out the fully booked signs and other events like the Zanzibar fashion week too have created added buzz and demand.
For more information on Zanzibar visit http://www.virtualtanzania.com/swahili-coast.php or click on http://www.virtualtanzania.com/zanzibar-tourism-directory.phpy