ETHIOPIAN READY TO GO DOUBLE DAILY TO MUMBAI
(Posted 14th February 2015)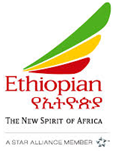 Ethiopian Airlines has confirmed that effective March they will add more flights on the route from Addis Ababa to Mumbai with double daily departures.
Operated with a new B787 Dreamliner will the second daily service offer added connectivity from across Ethiopian's African destinations. Flights to destinations beyond Mumbai will be operated by codeshare and Star Alliance partner Air India which flies to all the key regional airports across India.
It is understood that Ethiopian is also eying to launch additional destinations in India in due course, again in conjunction with Star Alliance partner Air India which will be providing the onward connections.
ET's CEO Tewolde Gebremariam was quoted to have said: 'We are very bullish on the prospects of Africa-India market. By increasing our frequency to double daily to Mumbai and expanding our codeshare agreement with Air India, fellow Star Alliance partner with the inclusion of domestic points in India and major destinations in Africa, we aim to become the airline of choice for travel between Africa and India by offering seamless and convenient connections thru our main hub in Addis. Going forward, we plan to increase our current frequency to New Delhi and start operations to additional destinations in southern India'.
For details on departure times and more visit www.ethiopianairlines.com