BELGIUM WEEK IN UGANDA TO CELEBRATE CLOSE TIES BETWEEN THE TWO COUNTRIES

(Posted 31st October 2018)
Dear ATC Readers in Uganda,
On behalf of the Belgian Embassy team, it is my pleasure to inform you about a special '2018' edition of their "Belgian Week" themed: "Sharing More than Colours", to mark the 20th anniversary of the opening of the Embassy of the Kingdom of Belgium in Uganda.
As you will see in the attached program and flyers, they will be rolling out a weeklong series of events between the 15th and 21st November featuring diplomatic gatherings, trade and economic related activities, a Development Day, a Kids Event, their King's Day reception, cultural interactions, visits to Ugandan innovative companies, Belgian food tasting and a concert featuring the renowned Belgian band Intergalactic Lovers.
Overview of the Belgian Week schedule
15th of November: King's Day Reception @ Kampala Serena Hotel
(By Invitation Only)
17th of November: Kids event: "Tales and Puppet shows" @ Ambrosoli School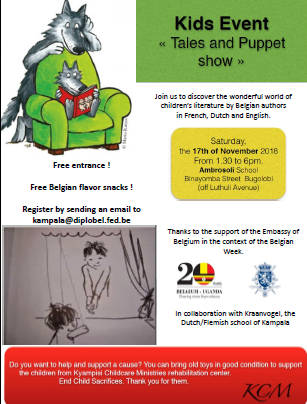 20th of November: Development Day: "Economic transformation and jobs" @ Hotel Africana
21st of November: Closing concert Intergalactic Lovers & Kaz Kasozi @ Design Hub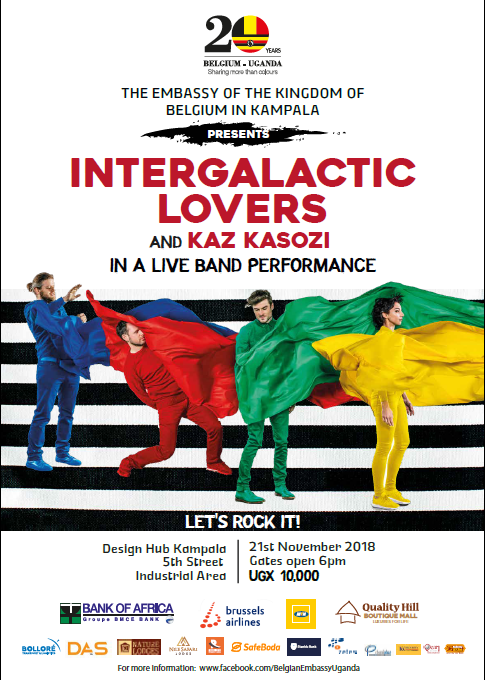 There will also be a Belgian Food Week at the Kampala Serena Hotel from the 12th to the 17th of November as well as a delegation of Belgian entrepreneurs visiting innovative projects in Uganda from the 18th to the 27th of November (details in the program).
You can also follow up on and support their social media campaign around these events by visiting and liking their popular Facebook page https://www.facebook.com/BelgianEmbassyUganda/
The Belgian team looks forward to welcoming you at these events, celebrating the unique bond between the two countries together with their Ugandan friends!
Partners and Sponsors of the event are among others:
Brussels Airlines
Quality Hill Boutique Mall comprising:
Le Chateau | Brasserie Belge – La Patisserie – M-Maison – The Pantry – Le Petit Village – Le Gourmet
MTN Uganda
Serena Hotels | Kampala Serena Hotel