SAUTI ZA BUSARA VERSION 10.0 READY TO RUMBLE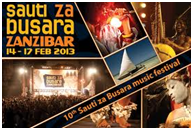 East Africa's best known performing arts festival, Sauti Za Busara is about to kick off its 10th anniversary edition on the 14th of February on the spice island of Zanzibar and the eyes of Africa, and in fact the world, will once again focus on what extraordinary programme the organizers have put together.
Like in past years, access to the festival areas during the day is free but attending the evening live performances will require a nominal payment unless visitors have their pre-purchased entry passes which give access to all areas at all times.
12 foreign groups will perform their songs and moves on stage alongside 6 from the Tanzanian mainland and 4 from Zanzibar itself, giving visitors ample choices what to watch and listen to.
Following a slow start a decade ago, when few would give the organizers the time of day leave alone media exposure, eTN has been a faithful friend of Sauti Za Busara for the entire period and promoted and encouraged the idea early on to stay the course in the financially difficult early years of the festival before it became not just fashionable but a must to be seen to be on board as a sponsor. Quality performers in the early years were also harder to come by but as time went on the queues of applicants from the region and across the African continent became longer and longer, more so as side programmes like a film festival attracted new visitors.
Today has the Zanzibari festival made its way into the annual calendar of events showcasing African performing music and culture artists and bringing them to the spice island for the arguably most important continental festival of its kind. All the best to the organizers and fun galore to the participants and spectators.