SERENA BAGS MORE AWARDS

Serena Hotels Tanzania recently received a recognition award from the National Social Security Fund (NSSF) for its continued compliance record with the Fund, presented by Second Vice President of Revolutionary Government of Zanzibar, Ambassador Seif Ali Iddi at Mount Meru Hotel in Arusha during the official opening of the Third NSSF Stakeholders Meeting. Serena Hotels was singled out as one of very few exemplary employers in Tanzania which have excelled in various sectors including financial, mining, transport and communication and received recognition in the Tourism Sector Category.
John Mwamakulah- the Human Resource Manager, Serena Hotels Tanzania acknowledged this award saying 'Serena Hotels is an equal opportunity employer and benevolence is at the center of our managerial practice. Other than seeking to always provide our employees with a balanced, conducive work environment, their well-being and involvement in the day to day operational issues is also important to us and hence this recognition'.
Last year, Serena Hotels was awarded "Best Hospitality, Travel and Tourism in Africa" by the African Business Awards, as recognition for being one of Africa's leading companies who have excelled in best practices and driven Africa's rapidly transforming economy.
Meanwhile has Serena Hotels also received an award during the just concluded ITB in Berlin, when Studiosus Reisen handed them their 'Studiosus Quality Award 2013' for the Zanzibar Serena Inn.
Presenting the certificate to the Serena Hotels team, Mr. Ulrich Rosenbaum, the General Manager of Studiosus Reisen reportedly said: '…the client feedback for Zanzibar Serena Inn has been consistently very good"'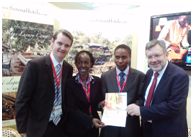 (Serena Hotels' Director of Marketing, Ms. Rosemary Mugambi, seen here receiving the award in Berlin)
Mahmud Janmohamed, Managing Director and CEO of Serena Hotels responded to the award by saying: 'This recognition in itself is indeed an honor and a challenge to us to consistently ensure and encourage the sustainable integrated ethical approach to development of the Zanzibar Serena Inn brand, as well as other Serena Hotels across East Africa and Mozambique. The Company will continue to work on supporting the growing tourism industry in Eastern Africa, and that it validates its belief that with the changing nature of guest expectations it is the quality of service and product that will continue to determine the destination choices which clients make'.
A member of the prestigious Small Luxury Hotels of the World, Zanzibar Serena Inn is styled to represent the epitome of Swahili style, ethnic elegance and Arabic opulence and is a haven of tranquility and opulence among the bustle of one of Africa's most ancient and most enchanting towns.
Serena Hotels covers some of the most evocative, exotic and enchanting destinations in the world. With a portfolio of twenty four Hotels, Safari Camps, Lodges and Resorts located in Kenya, Tanzania, Zanzibar, Uganda, Rwanda and Mozambique, Serena Hotels offer unprecedented locations, luxurious facilities and food and service levels second to none. Visit www.serenahotels.com for more information, booking enquiries and reservations.